Monthly Archives:
May 2015
Last month, the Board Bits article focused on a discussion of the laws and subsequent policy that addresses residency eligibility and registration procedures associated with student enrollment and attendance in our district. This information was provided to emphasize the importance of this issue for all members of Pennsauken Township. The Board of Education wants to ensure that only students who are eligible to receive an education in Pennsauken are benefitting from this service. In order for the Board to achieve this goal, it is crucial for all parents and guardians to keep the school district administration informed of their current address, phone numbers, or any living arrangements or guardianship changes that may have occurred since the initial enrollment of their child.
By Frank Sinatra
Ethan Van Sciver is a very talented artist at DC Comics with a career that spans 17 years.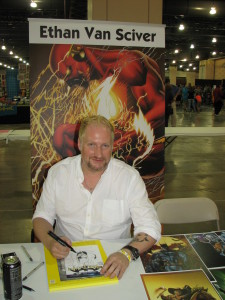 Van Sciver's work on several titles, featuring iconic characters including The Flash and Green Lantern, has helped him achieve celebrity status in comic book circles. He's also a home grown talent, growing up in Merchantville and graduating from Pennsauken High School in 1992. All Around Pennsauken caught up with Ethan as he was signing autographs and drawing commissioned pieces for fans at Wizard World Comic Con Philadelphia.
By Frank Sinatra
Don't get him angry. You won't like him when he's angry. But to be honest, that's tough to do, particularly as Lou Ferrigno, the star of the 1970's hit show, "The Incredible Hulk," is leaping from one project to the next, and having a great time doing it.

By Robert Fisher-Hughes, AAP Columnist and Amateur Historian
Restaurant and hospitality businesses have gone through as many evolutions over time as any other enterprises, suiting the needs of the historic communities they serve. Changes in transportation, communication, household technology and germinating ethnic and cultural diversity in the population contribute to this evolution, as do specific historic events such as Prohibition and its repeal. Changing tastes in food and advancing understanding of diet and nutrition also help determine both menus and the economic success of dining establishments. Add to these influences the atmospheric and entertainment dimensions of a night out, and the public accommodations of the past become an interesting way to trace our historic timeline.

By Judith Kristen, AAP Columnist
The mothers of all of us, above and beyond biology, whether we realize it or not, are service workers.
In these harried times, there are so many things we rely on others to do for us. We send our children to day care, and many must leave their young ones in the hands and hearts of others from 7:00 a.m. until 6:00 p.m. We're too pooped to pop after work; that makes for a quick call for pizza, cheese steaks, or Chinese food. We go on vacation and someone has to walk and feed our animals… you get the idea.

By Rick Taylor, Mayor of Pennsauken Township
Business is booming in Pennsauken. There are a lot of large companies that are making the decision to call our town home.
You have Princeton Tec, a manufacturer of flashlights, head lamps, and other technical lighting sources for outdoor and scuba use, moving into Pennsauken, bringing over 150 jobs with them. There's also Stay Fresh Foods, a company that provides high pressure processing for the food and beverage industry; they've already bought their new building on Sherman Ave. This will create another 40 jobs for our town. Then there's Berry & Homer, a large format digital printer specializing in printed graphic and visual communications like car wraps, murals and banners; they're making the move to town from Philadelphia. Red Hawk Distribution, a company that makes and distributes pillows and cushions, is making the trip from New York. Dicalite, a company specializing in diatomaceous earth and perlite products, has also made the move to Pennsauken.
By Frank Sinatra, AAP Editor
The tagline for the Merchantville-Pennsauken Water Commission (MPWC) is that "Only Tap Water Delivers." This statement was never truer than when the public water utility recently received the award for the best tasting water in the state by the New Jersey Section of the American Water Works Association (AWWA), the largest non-profit, scientific, and educational association dedicated to managing and treating water.
Township officials and top brass from the Pennsauken Police Department were on hand to recognize the ten new police officers who had been hired onto the force over the last 18 months and are currently patrolling Pennsauken's streets.
By Frank Sinatra, AAP Editor
Keeping in mind the recent property tax assessment mandated by the Camden County Board of Taxation, as well as the property tax levy cap law mandated by the State of New Jersey, Pennsauken Township's administration and the Township Committee have worked diligently to keep 2015's local property tax levy at the same level as last year.