Monthly Archives:
December 2016
The Pennsauken Township Committee will hold its annual reorganization meeting at 6:00 p.m. on Wednesday, Jan. 4 at the Pennsauken Country Club on Haddonfield Rd.
Thank you to everyone who submitted their addresses for the first-ever Interactive Holiday Light Map! To view the map, click here.
We'd love to highlight more homes decorated for the holidays! If you'd like to submit your address, you can do that by clicking here.
Due to the inclement weather forecast for Sunday, Dec. 18, Santa Claus had to make a few schedule changes for his visit to town.
Marco's at Pennsauken Country Club, 3800 Haddonfield Rd., will be hosting its annual New Year's Eve Gala on Saturday, Dec. 31 from 8:00 p.m. until 1:00 a.m.
Guests can ring in 2017 with Marco's five-hour premium package, including open bar; hors d'oeuvres; three-course served dinner include filet mignon and stuffed shrimp; dessert table with coffee cordials; champagne toast at Midnight; and continental breakfast. They can also dance the night away with Steve and Company Disc Jockeys.
The price is $94 per person, inclusive of tax and gratuity. Pre-payment is required and seating is limited. To make reservations, call (856) 438-5283.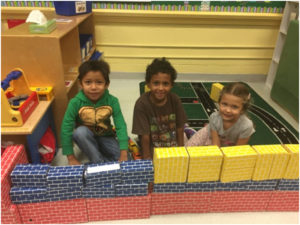 Pre-school students at Baldwin School learned all about buildings in their recent unit of study. Here are some eager learners in Ms. Romvary's class proudly displaying their cooperative work!
Phifer teacher Mrs. Beals, along with Park Avenue technology coach Mrs. Sara Allen, teamed up to organize a tour of the ancient Mayan ruins of Chichen Itza. And students never left the classroom.
This was, in fact, a virtual tour; students in Mrs. Beals's class attached an iPhone to cardboard goggles and followed their teacher on a "tour" of ruins. The class has been studying the earliest Americans cultures that arose in Mesoamerica in their social studies class.
The first-ever virtual field trip at Phifer was a success. Teachers hope to continue to use virtual field trips for students to explore many different, faraway places from the convenience of the classroom.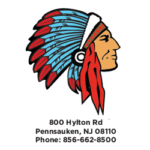 The sixth annual Pennsauken High School Senior College and Career Day is on Friday, January 13, 2017 from 8:15 a.m. to 1:00 p.m. Volunteers are needed to speak to our seniors about life after high school.
Volunteers are needed for the following panels:
Pennsauken graduates currently at a two-year college
Pennsauken graduates currently at a four-year college
Pennsauken graduates currently at technical school (auto, beauty, programming, etc.)
Pennsauken graduates currently in the military
Pennsauken graduates who have graduated college
Pennsauken graduates who went directly into a career after high school
Local professionals who can conduct mock interviews with our seniors.
This half-day event will include breakfast for volunteers; three, one-hour interview sessions to talk to seniors about life after high school or conduct interviews; and lunch with PHS seniors.
For those interested in volunteering their time to assist PHS seniors, please contact Bridget Zino at (856) 662-8500, ext. 5286.