Monthly Archives:
December 2016
By the Pennsauken Board of Education: Nick Perry, President; Allyson Meloni-Scavuzzo, Vice President; Cheryl Duffy; Michael Hurley; Diane Johnson; Leona Moss; Meg Snyder; Orlando Viera; and JoAnn Young
Board of education members make decisions that impact not only school districts but also the communities in which those districts are located. But what makes them qualified to do so, especially given that board members come from a variety of backgrounds that do not necessarily include education?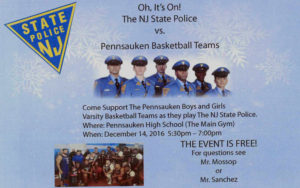 Game on! This evening, Wednesday, Dec. 14., officers of the New Jersey State Police are taking on student-athletes from Pennsauken High School's Boys and Girls Varsity Basketball Teams in a special scrimmage. The friendly games, along with a variety of skill challenges, are designed to foster goodwill between law enforcement and the community, creating a stronger bond between the public and those dedicated to protecting them.
The event takes place in the main gymnasium at Pennsauken High School, 800 Hylton Rd., from 5:30 to 7:00 p.m. and features friendly scrimmages and skill challenges between the high school ball players and the New Jersey State Police.
For more information, contact Eric Mossop, Supervisor of Athletics, Health and Physical Education, Pennsauken High School, at (856) 662-8500 x 5235.
The Breakfast with Santa scheduled for Saturday, Dec. 17 and advertised on pages 6 and 14 of the December print edition of All Around Pennsauken has been cancelled.
Pennsauken High School, 800 Hylton Rd., is hosting a Winter Vocal Concert on Tuesday, Dec. 13, beginning at 7:30 p.m. Admission is free and audience members will get a chance to sing the "Hallelujah Chorus" on stage! For more info, call (856) 662-8500 x5273.
Pennsauken's Fire Department will once again be escorting Santa Claus through certain neighborhoods and delivering candy canes during the holidays.
The Entertainment Software Association (ESA) and the Hispanic Heritage Foundation (HHF) announced 15-year-old, Pennsauken resident Calvin Bell as a 2016 LOFT Video Game Innovation Fellow. The Fellows, who are minorities age 15-25, were selected for the original video games and apps they developed to address social issues in their communities. Bell presented his ideas to the White House, U.S. Congress, and national community leaders on Thursday, Nov. 17, and Friday, Nov. 18.
By Joe Scavuzzo, Director, Department of Public Works
On behalf of the crew of your Public Works Department, I want to begin this article by extending our warmest wishes to our residents, businesses, and their families during this holiday season. It is my experience that family gatherings this time of year lead to a "re-capping" of the past twelve months; remembering those who have passed away, weddings, a birth of a grandchild, perhaps even a summer vacation. As in most businesses, the end of a calendar year is a time where an organization can look back and evaluate its strengths and areas of improvement. 

By Judith Kristen, AAP Columnist
For a generation of kids back in the 1960s a band from Liverpool came into our hearts and never left. Here we are 52 years later and our grandchildren are Beatles fans. February 7, 1964 is a date we all remember, the day those four mop tops walked off a Pan Am plane at Kennedy Airport and joyous American Beatlemania began.
Another date, a very sad date, came 16 years later: December 8, 1980, when John Lennon was gunned down outside his apartment house in New York City. I was 32 years old that day, but I felt like 132.
This December 8, I've decided to do more than call friends, play John's music, and remember his life. I'm going to remember how he told us to "Imagine" and "Give Peace a Chance."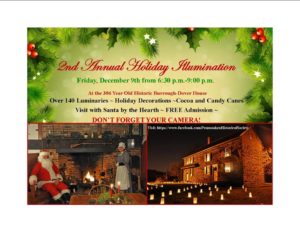 The Historic Burrough-Dover House, 9201 Burrough-Dover Lane, holds its second annual Holiday Illumination event on Friday, Dec. 9 from 6:30 to 9:00 p.m. Over 140 luminaries will provide a holiday glow on the lawn of the 306-year-old house. The house's halls will be decked in holiday décor, and Santa will be waiting at the lit hearth to welcome visitors. Hot cocoa and candy canes will be served. For more information, visit the Pennsauken Historical Society on Facebook.