Monthly Archives:
February 2017
Paying for college is a major concern for families. According to data from U.S. News and World Report, the average tuition and fees of attending a private college in for the 2016-2017 school year is $33,635, a more than three percent increase from last year. While significantly less, even attending a public, in-state school is pricey, with an average cost of $9,130 this year. And the average total debt of 2015 graduates who took out loans was $29,411. It's getting harder and harder to save for college; and many families don't know where to begin.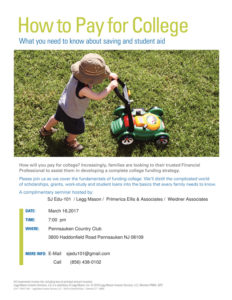 A special seminar, "How to Pay for College," hopes to change that. Held on Thursday, March 16, 7:00 p.m. at the Pennsauken Country Club, 3800 Haddonfield Rd., this free event covers the fundamentals of funding college, distilling the complicated world of scholarships, grants, work-study, and student loans into the basics that every family needs to know.
For more information, e-mail sjedu101@gmail.com or call (856) 438-0102.
Pennsauken High School's cast of the spring musical, "The Wedding Singer," will host a whimsical fairytale tea party on Saturday, Feb. 25, 2:00 to 4:00 p.m. at the Pennsauken High School cafeteria, 800 Hylton Rd. Some of your favorite fairytale characters and pirates will interact with guests and be available for photo opportunities. Kids are encouraged to dress up like their favorite characters and enjoy games, sing-a-longs, other activities and more. Cakes, cookies, brownies, juice, tea, hot chocolate, and more will be served. Tickets will be sold at the door and are $10 for adults, $5 for children ages 10 and under.
By the Pennsauken Board of Education: Nick Perry, President; Allyson Meloni-Scavuzzo, Vice President; Cheryl Duffy; Michael Hurley; Diane Johnson; Leona Moss; Jennifer Slattery; Orlando Viera; and JoAnn Young
Over the past several months, the Pennsauken Board of Education has been discussing various options to improve the efficiency of our monthly meetings. Recently, the Board has adopted two changes that we believe will help us achieve this goal.
New Processes Require Residents To Bring Additional Materials
By Sonny DiSabato, Senior Citizen Coordinator
Hello fellow seniors.
The Pennsauken Free Public Library will once again be hosting AARP Tax Help sessions. This free service will be available in the Library's Community Room, Wednesdays and Thursdays from 1:00 to 4:00 p.m.
By Frank Sinatra, AAP Editor
An annual rite for Pennsauken's municipal government, the Township once again held its reorganization meeting on Jan. 4, swearing in its newly-elected officers and selecting the organization's leadership for 2017.
By Arlene Miller, Friends of the Pennsauken Free Public Library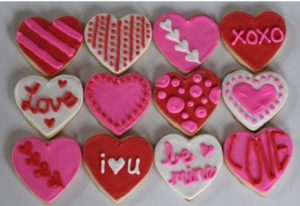 February: a month to celebrate presidents and precedents. And while Presidents' Day gives many of us a well deserved day off, Valentine's Day is a tried and true old standard for lovers everywhere. Last year, the Friends of the Free Public Library added what we hope will soon become a February precedent for Valentine's Day aficionados: our second annual Valentine's Day Cookie Sale. On Saturday, Feb. 11, starting at 11:00 a.m., we'll fill up the tables in the Library's lobby with home-baked cookies, just in time for gift giving to all those special someones on your list. And at just one dollar a bag, you can fill a basket full of cookies. Come early, though. We usually sell out fast; and once they're gone, oh well…
PENNSAUKEN PUBLIC SCHOOLS ARE CLOSED TOMORROW THURSDAY, FEBRUARY 9 DUE TO INCLEMENT WEATHER. ALL RELATED SCHOOL ACTIVITIES ARE ALSO CANCELLED.
By Joe Scavuzzo, Director, Department of Public Works
In the U.S., 64 percent of men do not make plans in advance for a romantic Valentine's Day with their sweethearts. Although I will neither confirm nor deny whether or not this fact applies to me, I can report that the Public Works Department is in planning stages for this year's activities. While our annual budget proposal process has been completed, we turn to the late winter/early springtime projects that are quickly approaching. Inclement weather can keep our crews unable to safely or efficiently operate. The "slow" days after snow has fallen and plowing is complete prevent us from taking a dead tree down or replenishing playground mulch in a park. We use this time to perform preventative maintenance services on our vehicles, equipment, and facilities.