Monthly Archives:
March 2017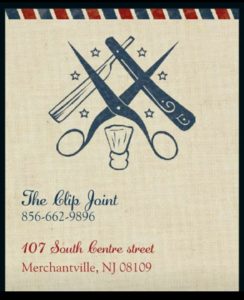 The Clip Joint has been serving local families for countless decades. With the passing of owner and community staple Al Segrest last October, it was the decision of his family to continue the tradition of the "best little hair house" in Merchantville. That goal comes to fruition on Saturday with a special event on what would have been Al's 69 birthday.
The iconic business is being staffed by Al's daughtes, Alexis and his ex-wife, Monica. And after a brief period of renovation, The Clip Joint is holding a grand reopening on Saturday, April 1. Held from 9:00 a.m. to 5:00 p.m., all haircuts will be discounted at $10 a piece; free mini panzarottis and soft pretzels will be offered while supplies last; and there will be coupons, giveaways and more.
The Clip Joint is located at 107 South Centre St. in Merchantville. For more information, visit The Clip Joint's Facebook page.