Monthly Archives:
July 2017
The Pennsauken Fire Department will open all of its fire stations to the public during National Night Out, Tuesday, Aug. 1, an annual community-building campaign that is designed to make neighborhoods a safer, better place to live.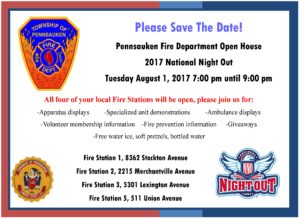 From 7:00 to 9:00 p.m., Pennsauken's fire stations will host a variety of activities, including apparatus displays, specialized unit demonstrations, ambulance displays, giveaways and more. Free bottled water, water ice and soft pretzels will be given out while supplies last. Members of the public can also pick up information on fire prevention and volunteer membership.
In addition, officers from the Pennsauken Police Department and members from Pennsauken Town Watch and the Pennsauken Alliance on Substance Abuse (PASA) will be at select locations.
The National Night Out open houses will be at:
Fire Station 1, 8362 Stockton Ave.
Fire Station 2, 2215 Merchantville Ave. (featuring Town Watch and PASA)
Fire Station 3, 5301 Lexington Ave.
Fire Station 5, 511 Union Ave.