Monthly Archives:
October 2017
By Frank Sinatra, AAP Editor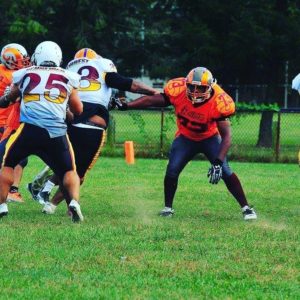 With their win against the Cecil County Chaos last Saturday, Pennsauken's New Jersey Rams have advanced to the next round of the playoffs.
"Our chances of winning the playoffs are pretty high," says Charles Hook, coach of the Rams. "
The inaugural year for the Rams, the team went 5-1 in the regular season, securing home field advantage for the playoffs. And the players like their chances.
"I think we're going to win it all," says Jacob Parreles, a newly minted Pennsauken resident who plays defensive back.
Many of the players are competing in a semi-pro league for the first time. Parreles had never played organized sports in high school but has a love for the game. Rasheem Lambert, who plays on the offensive and defensive line for the Rams, used to play for Winslow Township in high school and is using this opportunity as a fun way to keep in shape. There are a variety of reasons why the players joined the team, but there's a bigger reason why they've stayed and have a real chance of winning the championship: the Rams have become something more.
"We're all like family," explains Lambert. "It brings us together."
"I joined the team later in the season and everyone took me in like family," says Dashon "Ju Ju" Burdett, running back. "All of our players have come together.
"It definitely has a family vibe," adds Darnell Moore, Jr., a defensive end who played for Pennsauken High School and was on the championship Clayton Eagles, the semi-pro team that went undefeated last season. "Everyone has each other's back. We take care of each other."
The Rams are appreciative of the support they've received from Pennsauken residents. They hope to continue to be of the community and give back. Players and coaches are planning to participate in this year's holiday parade, walking down Westfield Ave. in their jerseys – and hopefully with a championship trophy.
Players arrive at "Mountain Top Field," the old P.Y.A.A. football field off of Elm Ave., today, Saturday, Oct. 28, at 4:30 p.m. Announcements begin at 5:30 p.m. and kick off is at 6:00 p.m. Tickets are $5 for adults, $2 for children 12 and under.