A Strong Effort In October For Pennsauken Schools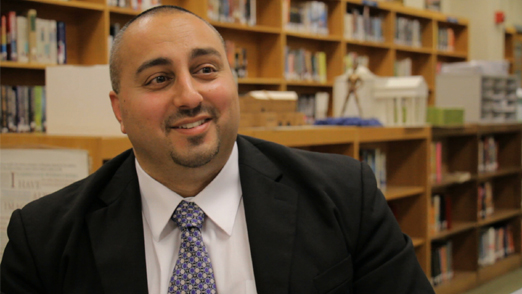 By Ronnie Tarchichi, Superintendent of Schools, Pennsauken School District 
As we put a close on October in the 2016-17 school year, I would like to first thank the teachers and students for their hard work during this month. I understand that teachers are the backbone of our district and I am especially grateful for their diligence. Students, as school work gets harder, please remember these words from Pele: "Success is no accident. It is hard work, perseverance, learning, studying, sacrifice and most of all, love of what you are doing or learning to do."
High School
The high school has been running efficiently and proficiently since the first day of school. We welcome new vice principal, Mr. Jon Reising, who comes to us from the Northern Burlington School District, where he served as both AP social studies teacher and head football coach. In addition to Mr. Reising, I would like to thank our principal, Mr. Munford, and our three other vice principals, Ms. Steer, Mr. Sanchez, and Mrs. Turner, for a job well done.
Our articulation agreement between Camden County College and Pennsauken Public Schools, where we are aligning high school curricula to the college courses offered, is moving right along with diligence. The Accuplacer exam is under way for our students, which enables them to receive a college transcript. All students will be done testing by the end of November. The following curricula have been written for 20 courses that will be offered in our district. The courses are separated by content area:
Automotive
Biology
Technology
English
ENG – 101
ENG – 102
ENG – 271
History
Medical Terminology
Math
MTH – 011
MTH – 100
MTH – 120
MTH – 123
MTH – 124
MTH – 125
MTH – 140
Music
Psychology
Our athletic programs have run very competently and meticulously thanks to the hard work of our athletic director, Mr. Mossop, and our many talented coaches.
Middle School And Intermediate School
Students at our middle and intermediate schools have grown collectively in mathematics, language arts, science, social studies, and related arts. The middle school principal, Mr. Honeyman, and the Intermediate School Principal, Mr. Bonkowski, are working together vigorously at our Park Ave. campus to offer students the most competitive education possible. Their collaboration has enabled parents and teachers to work together as stakeholders in each student's education. We have added an enrichment period during the day, where students are growing in specific content/subject area, as well as the arts. Special thanks to Mrs. Cook, who has provided exemplary services as a building supervisor, in addition to serving as our district science supervisor.
Elementary Schools
Our elementary schools have run very efficiently since the beginning of the semester. Students have grown both socially and academically to date; and just as importantly, are having fun in our schools. Mrs. Harmon, Mrs. Lawrence, Mrs. Joyce, and Mr. Lewis have done commendable jobs as building principals. In addition, our supervisors, Mrs. Massey, Mrs. Schmittt, and Mrs. Plasky, have done a commendable job as building administrators in our three smaller elementary schools, providing the leadership needed in those buildings.
 Spend Time With The Super
Please join me weekly for "Coffee and Questions with the Superintendent," taking place on Fridays at 9:30 a.m., beginning on Nov. 4 at the Pennsauken Country Club. This is a perfect opportunity for concerned parents and Pennsauken residents to come and ask questions regarding any topic within the school district. If parents or residents are unable to attend these weekly sessions, please feel free to contact our administrative offices at (856) 662-8505 to schedule a time to talk to me over the phone or in person.