All Around Pennsauken's 2017 Interactive Trick Or Treat Map!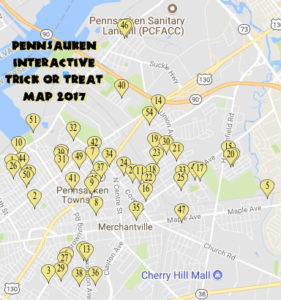 Thank you to everyone who registered their homes for our 2017 Interactive Trick or Treat Map! We had over 50 homes for our map this year… and we may have more still!
If you'd like to share your address so that trick or treaters can visit your house on Halloween from 4:30 to 8:00 p.m. and take all your candy, click here. The cut off for new addresses will be 11:30 a.m. Oct. 31!
Information submitted to the Interactive Trick or Treat Map is solely provided by the general public. All Around Pennsauken is not responsible for any incorrect information provided. Trick or treaters should always be accompanied by a parent or legal guardian. Please use caution and common sense when participating in trick or treating.