"Back The Blue" Jeep Ride Held On October 14
A community event planned for tomorrow is designed to be a show of support to local law enforcement.
The second annual "Back the Blue" Jeep Ride will be held on Saturday, Oct. 14; last year, over 100 jeep owners gathered at the Cherry Hill Mall and then traveled to the police stations in several communities to thank officers for their dedicated service.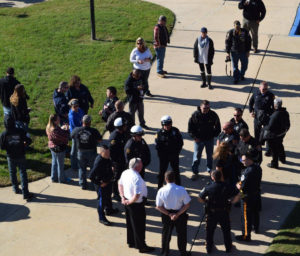 "We're just visiting police stations and shaking the hands of officers, thanking them for keeping our communities safe," says Ann Marie McCusker, the organizer of the "Back the Blue" Jeep Ride. "It's a great show of support to those who serve and protect us every day. We're excited for this year's event and we hope to have a larger turnout from the community."
The "Back the Blue" Jeep Ride has planned stops to thank officers in Pennsauken, Merchantville, and Cherry Hill. The ride ends at the Collingswood Police Station, where officers from Haddon Township and Oaklyn will also be in attendance.
Jeep owners who wish to participate on Oct. 14 should arrive at the back parking lot of the JC Penney's at the Cherry Hill Mall by 8:30 a.m. For more information, visit the "Back the Blue" Jeep Ride's event page on Facebook.