Bayada Home Health Care Moves To Pennsauken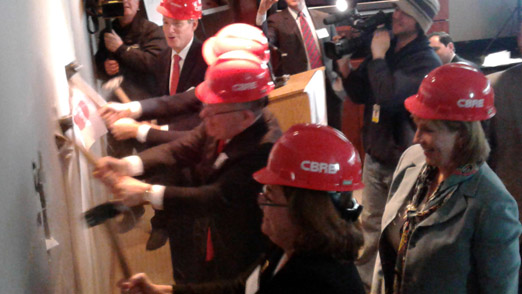 By Frank Sinatra, AAP Editor
Forgoing the traditional ceremonial shoveling of dirt, Bayada Home Health Care took a different route to mark the start of renovations at its new office space at 4300 and 4350 Haddonfield Rd. in Pennsauken. On Feb. 1, Lt. Governor Kim Guadagno, Pennsauken Mayor Betsy McBride, and representatives from the international home health care provider took sledgehammer to wall to celebrate a project that will ultimately bring more that 550 Bayada Home Health Care employees to town.
"Today is a very big day in the world of Bayada as we break ground on a new campus," says Tom Sibson, chief financial and administrative officer for Bayada. "This is an exciting opportunity, because we will be able to work under one roof."
Bayada's new office space in Pennsauken will consolidate support office functions, such as IT, communications, and accounting, bringing more than 400 employees into a single location, with plans to transition an additional 100 employees to the site over the next five years. The Pennsauken location will also house the organization's international training center; Bayada employees from all over the world will be coming to learn how to provide compassionate health care.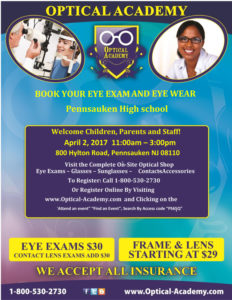 "We are thrilled here in Pennsauken to have Bayada move in. We couldn't be happier," says Pennsauken Mayor Betsy McBride. "Bayada chose this location to consolidate for six surrounding counties. It's a great opportunity for them to bring everyone together. It's a great opportunity for Pennsauken and we're happy to be here."
Bayada was considering making a move to Philadelphia. But thanks to Grow New Jersey, a powerful job creation and retention incentive program that strengthens New Jersey's competitive edge in the increasingly global marketplace, the company received $18.5 million in state tax breaks to stay in the state and has committed to the creation of approximately 160 new jobs.
"[The incentives] kept us here. We could have been over to Philadelphia, but I'm glad we could come here. My heart's in South Jersey," explains Mark Baiada, the president and founder of Bayada Home Health Care. "I want to thank Pennsauken for welcoming us.
"There are a lot of people out there in need of care. We're only in 22 states. We're in Ireland, Germany, India, and Korea. We're hoping that [Pennsauken] is going to be the core of it, the nerve center of Bayada worldwide."
New Jersey tax payers also benefit from this move, according to Lt. Governor Guadagno.
"There will be an $86 million net benefit to that taxpayer. Yes, the company stays. Yes, the company gets tax credits over time. But the taxpayers win $86 million. That's the benefit we get from the Grow New Jersey program."
"But how do you put the value on the benefit of keeping 400 people here in New Jersey? Compassionate people; educated people; people who I suspect don't just give back every day to the people that they serve during their day job, but who also participate in other things in their communities," adds Guadagno. "How do you put a price tag on keeping those 400 givers in the communities that they serve? Or the extra, new 100 people who will also be here? Or how about putting a price tag on those five or six hundred people who will now go out throughout the world and talk about how great the life is here in Pennsauken, New Jersey? I think the taxpayers gain $86 million, but the real gain is the community that Pennsauken has surrounding it that will benefit from all the people that will serve."
Bayada plans to renovate the two buildings in phases, with the first group of employees moving in June 2017. In addition to support office staff, the new space will also host Bayada's Camden County assistive care office, which employs home health aides who provide personal care services.
"We want to be here in 100 years," explains Baiada. "It's all about service to the community, putting roots in the community. We're here for a long time. We want to be a good neighbor."
"Our restaurants and businesses are here to welcome you. Our Township administration is here to support you. My colleagues and I are here to applaud you," adds Mayor McBride. "Thank you very much for coming to Pennsauken."