Bayada Home Health Care Opens Its Doors In Pennsauken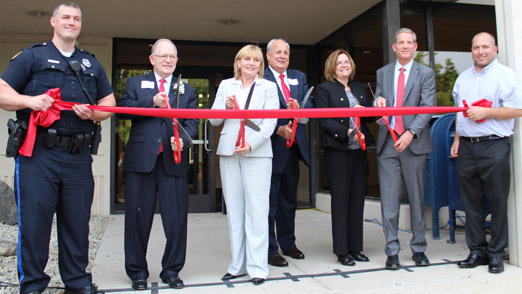 By Frank Sinatra, AAP Editor
Sledgehammers in February were replaced with ceremonial scissors in June, as executives from Bayada Home Health Care, New Jersey Lieutenant Governor Kim Guadagno, and Township officials helped to officially open the home health care agency's new facility on Haddonfield Rd. in Pennsauken.  
"This is the global support center," says J. Mark Baiada, founder and president of Bayada Home Health Care, who spoke about the new 127,000 square foot executive campus, which will consolidate the agency's support office functions and house their international training center. "We're here so we can support all of our nurses, nurse's aides, and therapists in the field, so they can do really good work, so we can be more effective here, so they can be more effective in the home to help people stay home."
"It's a great day for Bayada, a great day for Pennsauken, and a great day for the State of New Jersey," adds Pennsauken Mayor Betsy McBride. "When you're beginning to consolidate and bring everybody closer together, one of the key things you look at is location. We have in Pennsauken a crossroads of all the different highways of Southern New Jersey. We have trains and buses. We also have proximity to the airport and the Philadelphia train station. So it's more convenient for caregivers to be able to spend more time at home or on their way to a location to take care of somebody."
According to David Baiada, practice president for Bayada Home Health Care, Pennsauken played a role in forming the organization's core values.
"I grew up not far from here. I was a soccer player when I was young and I learned a lot of the lessons and values that have become part of our organizational value system on the soccer field on Haddonfield Rd.," says Baiada. "For me, this is kind of a cool homecoming, because the lessons I learned right here in Pennsauken are the ones we are helping fortify and sustain in the long run right here."
Bayada was considering making a move to Philadelphia. But thanks to Grow New Jersey, a powerful job creation and retention incentive program that strengthens New Jersey's competitive edge in the increasingly global marketplace, the company received $18.5 million in state tax breaks to stay in the state and has committed to the creation of approximately 160 new jobs.
"The numbers have to work. If the numbers didn't work and the Grow New Jersey program didn't exist, you wouldn't be standing here," explains New Jersey Lieutenant Governor Kim Guadagno. "We wouldn't have the Grow New Jersey program if it didn't show a benefit here today to the taxpayers of New Jersey to the tune of $85 million over 20 years. It's a benefit to the company to have all 500 or so of you under one roof. It's more a benefit to the taxpayers on every level. The numbers have to work, they did here for everyone."
"I know Pennsauken, from the grassroots level, all the way to the top with the mayor, with all of their economic development team, are welcoming in every way and they will be here more often than not to take your temperature to make sure that you stay here and stay happy," adds Guadagno. "I thank you for that because it makes our job on a state level that much easier."
In closing, the Lieutenant Governor gave a heartfelt reflection on the importance of what Bayada does for the community, relating a personal story of how home health care workers helped her own mother before she passed away.
"What you do in this building is priceless. You give the gift of human kindness to those that need it most. It isn't just the $85 million benefit to the taxpayers, it wasn't just a good Grow New Jersey deal for the company itself, but it's the gift of human kindness. And I am so proud, that you have decided that the home base for that gift is here in the State of New Jersey, in the County of Camden, in the Township of Pennsauken. Thank you for everything that you do and congratulations."