Bergey's Truck Centers Holds Grand Opening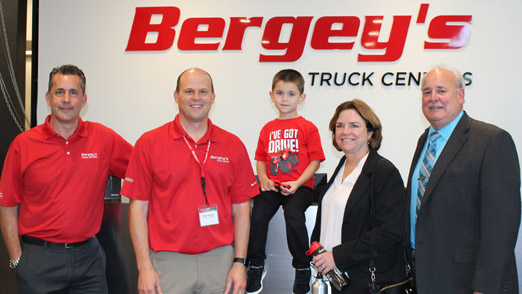 By Frank Sinatra, AAP Editor
On Oct. 19, Bergey's Truck Centers held a grand opening ceremony of their new, state-of-the-art facility at 7255 North Crescent Blvd. Invited by Mark Bergey, president of Bergey's Truck Centers, Pennsauken Mayor Betsy McBride and Deputy Mayor Jack Killion were given a tour of the over 54,000-square-foot facility.
"This is fantastic. This is a big boost to our town," says Deputy Mayor Killion. "We're honored to have Bergey's Truck Centers here in Pennsauken. We've had a major growth spurt for businesses in our community. We want to see it continue. It helps our tax base."
"It's amazing what they've done here, overhauling what was a vacant property," adds Mayor Betsy McBride. "This building helps Bergey's Truck Centers better serve their customers in South Jersey. For our town, this means an increase in ratables and employment opportunities for Pennsauken residents."
Bergey's Truck Center, a premium heavy duty and medium duty truck dealer that's been in existence since 1924, first called Pennsauken home in 2002, purchasing the Horner Mack facility on the other side of Rt. 130; that location is now repurposed as the company's tire center and for used truck sales.
"We outgrew our old space, which is good, and moved into this facility, which is over 50,000 square feet to expand our operations and support our customer base," explains Bergey.
The brand new truck center offers improved service capabilities, including 21 service bays and state-of-the-art truck service processes and systems. Bergey's new facility also features a 15,000 square foot parts warehouse, expanded parking, three different improved waiting areas, including Wi-Fi, and more.
"We've more than doubled our capacity," adds Bergey, who added that there is also additional space along Westfield Ave. that can be used for future expansion. "Plus, our parts area is three times the size of what we had over there. There's more room for parts and servicing trucks."
In addition to allowing Bergey's Truck Center to better serve their customers, the project, which is estimated at around $3 million in both new equipment and remodeling, also serves as a significant investment in the Pennsauken community.
"Most of our customers are here and Pennsauken is a good community to be in," says Bergey. "We've been in town for 15 years; when this became available, it just seemed like a natural fit."
"Businesses can always look at the attributes of Pennsauken for location, for accessibility," adds McBride. "This type of growth shows that the business community values what Pennsauken offers; they're looking at our town before going anywhere else."
For more information, visit BergeysTruckCenters.com.