Cooper River Park Ice Rink To Open On November 25
The Freeholder Board is bringing the Winterfest Ice Skating Rink back to Cooper River Park this year to provide family fun from Nov. 25 to Feb. 14. The celebration kicks off at 6:00 p.m. on Nov. 25 with carolers and a tree lighting.
"Come to the grand opening celebration featuring a ribbon cutting, tree lighting ceremony with caroling, giveaways, refreshments and much more," said Freeholder Jeffrey Nash, liaison to the Camden County Parks Department. "There will also be horse-drawn carriage rides, along with free carousel and Ferris wheel rides."
The 60 foot by 120 foot ice rink is currently being constructed in the center of Cooper River Park's Jack Curtis Stadium located at 5300 North Park Drive in Pennsauken. The park will be transformed into a winter wonderland with twinkling lights in the trees, and vendors selling soft pretzels, hot chocolate and other tasty treats.
The Winterfest Ice Skating Rink at Cooper River Park will be open Monday through Thursday from 5:00 to 9:00 p.m., on Friday from 5:00 p.m. to 10:00 p.m., on Saturday from noon to 10:00 p.m., and on Sunday from noon to 9:00 p.m.
Children four years of age and younger will be admitted onto the ice for free. There is a $4 admission fee for kids five to 12. Admission for adults is $6 and a $4.00 skate rental fee for all ages. In addition, there is plenty of free parking in lots to either side of the stadium. Visit www.skatewinterfest.com for information on skating lessons and more.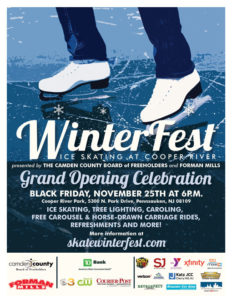 "This is another great reason to visit one of Camden County's great parks. Bring the entire family to Cooper River Park and make it your winter tradition," Nash said. "This is a great opportunity to introduce kids to skating and who knows? There might be some future figure skaters or hockey players out there."