Double Nickel Brewing Company Opens In Pennsauken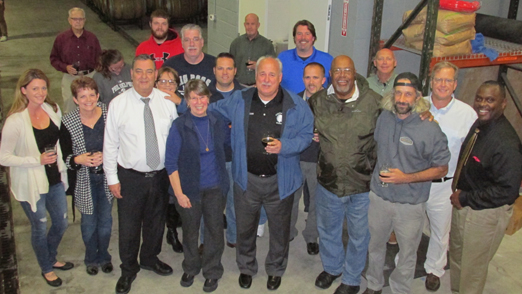 By Frank Sinatra, AAP Editor
Here's something to raise a glass to: on Oct. 24, the Double Nickel Brewing Company opened its doors to the public for the first time. Located at 1585 Rt. 73 in Pennsauken, the former site of the Spa Fitness Center, the business is a culmination of the dreams of several individuals.
"I've always been interested in beer. My father was a liquor salesman," says Bob Dalsey, M.D., the primary of several principal investors – all of them from the medical field – who have helped to provide head brewer Drew Perry with the capital to make the Double Nickel possible. "We wanted a project outside of medicine that we felt would be fun. We knew Drew since he was a kid. He went to school with my children; we celebrated holidays together. His mom actually works in our office. A group of our doctors said we would help him open a brewery."
Not surprisingly, Perry gained a passion for beer in college.
"I went to college to be a physical therapist," explains Perry. "After college, I went through the AmeriCorps program, traveling to different job sites for 10 months. One project was two blocks from a brewery. As soon as I was done with AmeriCorps, I applied for a job at Flying Fish."
Perry worked as a brewer for the Somerdale-based company for several years, and then moved on to lead recipe development and contract brewing for Beltway Brewery Company in Virginia, which produces beer for dozens of other microbreweries. But Drew had always wanted to come back to South Jersey and brew beer using his own recipes.
"This is the first opportunity where I've been able to do my own thing," says Perry. "I'm brewing to my palate along with an emphasis on traditional beer that everyone can drink."
So what's with the name? You can credit Dr. Dalsey's father with that. Turns out, it's a nod to the bridge right down the road.
"He drove all the time at his job," explains Dalsey. "He had a CB and all the truckers called the Tacony-Palmyra Bridge the 'Double Nickel.'"
The investors of the Double Nickel Brewing Company did an extensive search to find the right type of building for the brewery. The property in Pennsauken met all the important criteria.
"The building was perfect for brewing. We looked at many, many buildings all over the place," says Dalsey. "You need a very high-ceilinged building to be able to fit the appropriate tanks. This had a lot of potential for expansion and it had visibility. It's not back in an industrial park; you can see it from the street."
Plus, there was another important intangible, according to Mike Barrett, D.O., an investor who lived in Pennsauken as a boy, growing up on 34th St., then moving to Grant Ave.
"I always felt that Pennsauken has a great sense of community," added Barrett. "People in Pennsauken support each other. If you can get the community involved, they can help us and we can help them. The connections are nice."
According to Dalsey and Perry, the brewery is going to market with four beers: a pilsner; a classically styled clean and crisp option for the lite beer drinker; a Vienna lager, a rich amber brown pour with a bready backbone balanced by a variety of German-style hops; a Session IPA, an India pale ale designed to be enjoyed by all; and an IPA that provides notes of grapefruit, pine and lemon. The Double Nickel also has a winter release that starts this month. All of these beers are available at the facility's tasting room, where guests can sample the brewery's offerings after taking a walking tour. As the business is a brewery, they don't have a kitchen on site. However, the Double Nickel is B.Y.O.F. – bring your own food. Guests can bring take out or pack a meal from home and dine at "recycled" tables made with polished hardwood from the Spa Fitness Center's old basketball court. Guests can even host functions at the tasting room and bring in a caterer.
"This is a true microbrewery," says Dalsey. "This is a place to come to see the brewing process, taste different beers in a nice environment, bring your own food and have an inexpensive night out."
The Double Nickel Brewing Company is open Monday through Friday, 4:00-10:00 p.m.; Saturdays from 12:00-10:00 p.m.; and Sundays from 12:00-5:00 p.m. For more information, visit http://doublenickel.wpengine.com.