Environmental Commission Sponsors Clean-Up Day
The Pennsauken Environmental Commission is sponsoring a clean-up day at Tippin's Pond and Heritage Park, 419 Cove Rd., Pennsauken, on Saturday, Sept. 19 from 9:00 a.m. to 12:00 p.m.
Volunteers will be picking up trash and cleaning brush from the nature trails, fishing dock and pond. Children are allowed to participate as long as they are accompanied by an adult. Gloves will be provided, but they are one size fits all, so bringing personal work gloves for youngsters is recommended. Since the pond and riverfront areas will be wet and the wooded area uneven, proper footwear is a must. The Commission also recommends wearing long pants to protect against the undergrowth. And a hat is never a bad idea.
This is a wonderful opportunity for residents, particularly young people, to realize the importance of keeping Pennsauken Township, and its green spaces, clean.
Any question can be sent to envirocomm@twp.pennsauken.nj.us.
Bike Share Available To Residents
Pennsauken Township and the Pennsauken Environmental Commission sponsor a bike share program, giving Pennsauken residents, age 18 or older, access to a convenient, healthy, and affordable transportation option.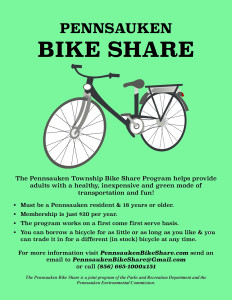 For an annual cost of $20, residents age 18 or older can borrow one of approximately 30 refurbished bikes stored at the Pennsauken Township Municipal Complex, 5605 N. Crescent Blvd. Participants can take out a bike for the day and bring it back, or store it at their home until they're ready to return it. All bikes must be returned at the end of the year in order for them to be properly inspected and to have any necessary repairs made.
Hours of operation are Monday through Friday from 9:00 a.m. to 4:00 p.m. at the Pennsauken Township Municipal Building, and Saturday from 10:00 a.m. to 12:00 p.m. at the trailer adjacent to the Pennsauken Free Public Library.
For more information, visit PennsaukenBikeShare.com or e-mail PennsaukenBikeShare@gmail.com.