Flowering Educational Opportunities In May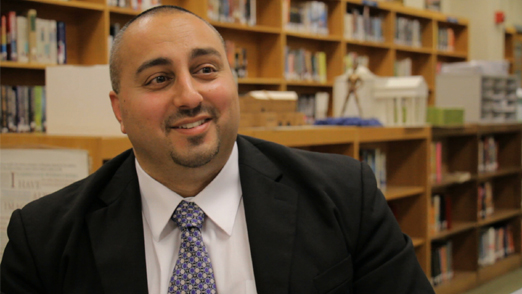 By Dr. Ronnie Tarchichi, MEd2., M.S., M.B.S., Superintendent, Pennsauken Public Schools
April is now behind us and we are looking forward to May. There's a lot ready to bloom this month! We have had a very successful year thus far and the year is almost over. We look forward to all of our end of year activities.
We have opened the door to tremendous possibilities for our students and families. We have introduced dual credit courses, created new vocational programs, and fine-tuned existing programs, built more collegiate-based athletic facilities for our students, laid the groundwork for a potential ROTC program, and opened a world of opportunity for our students and educators. We can, as a community, grow positively if we are positive minded. We must remember that negativity is noise and poison for potential of our students and community. I am very proud of our accomplishments this year and we are just getting started.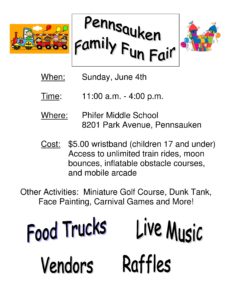 The Board of Education and I will introduce a referendum that will benefit all of our schools very soon. We look forward to positive community input and a chance to make Pennsauken a school district that is renowned in our great State of New Jersey.  Please join us Sunday June 4 (rain or shine) for our Pennsauken Public Schools End of Year Fair, hosted on our Park Avenue Campus from noon to 4:00 p.m. We will have vendors, crafts, and fun family activities for our children. I look forward to seeing all of you there!
High School
I would like to congratulate our coaches for their success this year. They have made Pennsauken an athletic powerhouse. Coach Tabb, Coach Snyder, and Coach Zimmerman have brought even more titles, trophies, and accolades to Pennsauken Track. Coach Killion's volleyball team is walking as a championship team if there ever was one in the sport of volleyball. Coach Byrd's baseball varsity baseball team has victories over top ranked state teams. These are just some of our athletic accomplishments thus far and we owe our success to our teachers, coaches, and the hard work of our athletes.
Pennsauken Public Schools and the world's greatest athletic trainer, Coach Tom Connors, will host our first ever Strength and Speed Camp this summer for our athletes. This is a FREE program; however to partake, students must be signed up for our summer academic enrichment program. Students will prep for SATs, grow in science, mathematics, and language arts content knowledge and fine tune their athletic ability all at the same time.
Our summer academic enrichment program is FREE to our students; please take advantage of this opportunity. Parents can inquire about dates and times at Pennsauken High School or by visiting the Announcements section on Pennsauken.net. Students interested in music are also encouraged to participate in summer enrichment, as they will be able to take advantage of content enrichment in science, mathematics, and language arts, as well as participation in summer music enrichment.
"The Wedding Singer" musical put on by Mrs. Brown and our very talented students was incredible. Honestly, what a show! Thanks to Mr. DeNofa, Mrs. Brown, and our music department, our students excel in music, dance, and drama.
Lastly, our transition to a high school with multiple academies and career and technical education programs continues to progress at a very proficient rate through multiple partnerships with colleges and universities. Vocational programs and academies will be up and running in September of 2017. It is a great time to be a student in Pennsauken Public Schools!
Middle And Intermediate Schools
Phifer Middle School principal, Mr. Honeyman, and Intermediate School principal, Mr. Bonkowski, persist to efficiently join forces in order to offer our students a smooth transition from primary to secondary education. The teachers and administration have worked very hard to ensure significant growth in their young scholars at the Park Avenue Campus.
Elementary Schools
Our elementary schools have run very professionally since the beginning of the year and continue their smooth operation. Students have grown both academically and emotionally this year, preparing them for the Intermediate School. I would like to thank Mrs. Harmon, Mrs. Lawrence, Mrs. Joyce, and Mr. Lewis for their diligence as building principals; and our supervisors, Mrs. Massey, Mrs. Schmittt, and Mrs. Plasky, for a commendable job as building administrators in our three smaller elementary schools, providing the leadership needed in those buildings. In addition, I would like to thanks Mr. Logan for his diligence and leadership at Baldwin Preschool and his role as director of elementary education.
All elementary schools will have administrators localized in their buildings beginning in the 2017-18 school year. This will help our schools run even more effectively!
Spend Time With The Super
Please join me for "Coffee and Questions with the Superintendent," taking place this month on Tuesday, May 16, before the Board of Education Meeting from 5:00 to 6:55 p.m. Parents are encouraged to come to the central administration office, 1695 Hylton Rd., and see me directly for an informal meeting. These are times where concerned parents or Pennsauken residents can come and ask questions regarding any topic within the school district.