Fourth Annual Pennsauken Job Fair Scheduled For September 28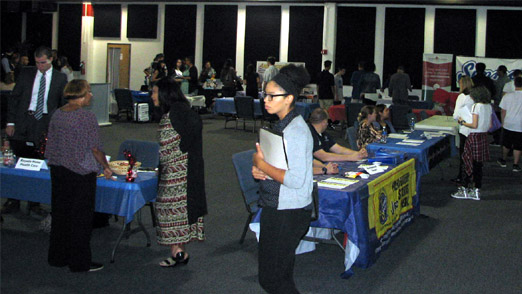 Pennsauken Township, the Business, Industry, and Government Council of Pennsauken, and Living Faith Christian Center are hosting the Township's fourth annual job fair on Thursday, Sept. 28. The event, held from 10:00 a.m. to 2:00 p.m. at Living Faith Christian Center, located at 2323 Rt. 73 in Pennsauken, will allow job seekers to connect with local businesses and organizations with open positions.
"Pennsauken's job fair puts residents in front of local employers ready to hire; in fact, many individuals have been hired right on the spot in previous years," says Pennsauken Mayor Betsy McBride. "Gaining a job is truly empowering, allowing people to put food on the table and take care of their families. We hope that many in our community take advantage of this important event."
At last year's job fair, hundreds of job seekers met with almost two dozen local businesses and organizations looking for hires. Many of the companies participating in the job fair expressed how impressed they were with the candidates they spoke with.
"We've had a lot businesses that look forward to coming back to Pennsauken's job fair each year due to the amount of qualified candidates the event attracts," says Larry Cardwell, Pennsauken Township Department of Economic Development. "Our job fair really benefits both local employers and job seekers."
Job seekers planning to come to this year's event are asked to bring at least two dozen copies of their résumé and to "dress to impress."
"A good first impression can go a long way to standing out to a potential employer," adds Terry Carr, Pennsauken Township Department of Economic Development. "We'll start sharing a list of businesses and organizations planning to attend the job fair in the next few weeks. Those individuals looking for a new position should do their homework and research these companies beforehand so they can not only see if they're a good fit, but also be knowledgeable and ask important questions."
Individuals unable to attend the event, or those looking to connect with potential employers in advance, can upload their résumé at http://www.twp.pennsauken.nj.us/content/pennsauken-job-fair-2017. Pennsauken's Economic Development department will share résumés with all the companies who participate in this year's job fair and will keep these electronic résumés on file for companies looking to hire employees in the future.
For more information about the Sept. 28 job fair, contact Terry Carr, (856) 665-1000 x153, tcarr@twp.pennsauken.nj.us; or Larry Cardwell, (856) 665-1000 x108, lcardwell@twp.pennsauken.nj.us.