Grateful Resident Creatively Thanks Pennsauken Police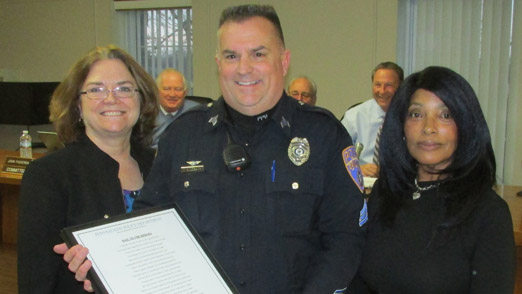 At the Township Committee Meeting on Feb. 22, a member of the Pennsauken Police Department was recognized by a very grateful resident.
Diane Yancy had found herself in a serious situation with nowhere else to turn. Pennsauken Police's own Sgt. Chris Sulzbach was integral in helping Ms. Yancy at a difficult time. To show her appreciation, not just for Sgt. Sulzbach, but for all police officers serving for their communities, Diane put pen to paper and wrote a creative work entitled, "Hail to the Heroes:"
To answer the call, it takes a very special breed,
Fruit should be judged by the basket, not just by one seed,
In times of trouble, and times of great danger,
They answer the call of a complete stranger,
Many have sacrificed and laid down their lives,
Leaving behind their children, their husbands, or their wives,
Man is not perfect, and in this world will never be,
There is good and bad in all, including you and me,
They have taken on a profession that many would not dare,
And arrived at some locations, most could not bear,
During a storm, many would choose to run away,
But until the dust settles, we count on them to stay,
Never sure of what might be lurking behind any given door,
Perhaps a simple dispute, or something much more,
At times, in a second, there's a decision to make,
With a life on the line, even their own at stake,
No matter when trouble decides to rear its ugly head,
They look it directly in the eye, while most are sleeping in bed,
And when the situation is under control,
Peace is restored, and once again off they roll,
Trouble never remains in one place, it tends to roam around,
Yet, not far behind it, can be a frightening sound,
A siren at a distance, but closing in fast,
Bringing along with it, those who are up to the task,
So let us take a moment and think of all they do,
To make the streets safer for me and for you,
They put their best foot forward with no crowd to cheer,
Working alone, or side by side, no time to entertain fear,
After all is said and done, there's one thing that holds true,
They are the quiet heroes, the men and women in blue.
"Diane put a lot of thought and effort in her very creative thank you to Sgt. Sulzbach," says Mayor McBride. "Our town has a very dedicated police department, with hard working officers going above and beyond to help our residents."