Griffith Morgan House Hosts Inaugural "First Sunday" Event March 1
In 2014, historic Griffith Morgan House, located at 243 Griffith Morgan Ln., right off of River Rd. between Delair and Rt. 73, began to offer regular hours of free admission to the public on the first Sunday of the month from March through November. In 2015, the inaugural "First Sunday" event happens to fall on Sunday, March 1, which happens also to be St. David's Day, the national day of the nation of Wales, the homeland of the Morgan family that first settled the historic site in 1693.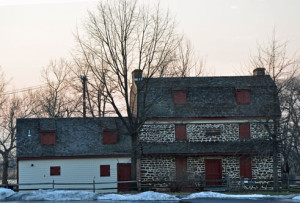 To mark this special occasion, Griffith Morgan House will be open from 12 p.m. to 4 p.m. on Sunday, March 1, rain or shine, and will feature programs to celebrate the heritage of Wales. Characteristic Welsh dishes will be prepared on the colonial open hearth of the historic house, including the traditional Welsh lamb stew known as "cawl" and hearthstone baked Welsh cakes. An exhibit celebrating the history and culture of this Celtic nation known for its music and poetry and its distinctive and persistent language will be presented.
Of this rarely highlighted ethnic identity, which helped to found America and to shape the course of our history, it has been said that "to be born Welsh is to be born privileged, not with a silver spoon in your mouth, but with music in your heart and poetry in your soul." From poets and presidents and actors and explorers, to dragons and castles and leeks and love spoons, come visit Griffith Morgan House on Sunday, March 1 to learn about Wales and the Welsh nation.
Free tours of Griffith Morgan House and its museum and access to the library will be offered, and light refreshments will be available to visitors. Plenty of free parking is available.
Visit the Griffith Morgan House Facebook page at https://www.facebook.com/GriffithMorganHouse for more details and directions or call (856) 486-9561 and leave a message for more information.