Ho Oh No… Dealing With Stress During The Holidays
The holidays. There's no more special – or stressful – time of year, particularly when it comes to family. During this emotionally charged holiday season, self-control, patience and familial bonds can be put to the test.
Just like there can be many different types of presents placed under the tree, there are a variety of stressors that will be unwrapped this time of year, sometimes to the surprise of family and friends.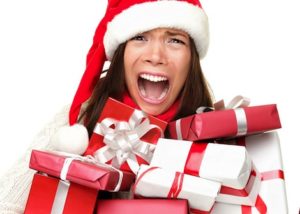 Affording The Holidays
With a big emphasis on gift giving during the holidays, it can be difficult adjusting family expectations during this time of year, especially if financial belt-tightening is occurring. In cases where families are trying to be financially realistic, it's important to set a budget and stick to it. Don't overextend yourself; spending too much today only comes due tomorrow.
Coping With Loss
Finding the balance between the joys of the season and the grief of losing a loved one can be extremely tough, particularly if that loss is relatively recent. Honor the memory of loved ones by continuing holiday traditions, but also consider creating new ones to help with the grieving process. Remember, there is no timeline or set formula to deal with grief. It affects each person differently. Be patient with yourself as you work through your emotions.
Changes In Family Relationships
Younger family members may have difficulty processing their feelings when dealing with issues like divorce or separation during the holidays. Acknowledge their – and your own – feelings throughout the holidays. Manage expectations and be aware that stressful situations can't always be avoided.
Inappropriately Dealing With Stress
Holiday celebrations can be fun outlets for stress relief and enjoyment of the season; they can also be notorious for overindulgence in food, drink, and more. Too much of anything is a bad thing, particularly when used as a way to de-stress. Learn to say no and don't abandon healthy habits when it comes to diet and exercise.
They say that negative reactions to stress come from either having something happen that you don't expect, or a different outcome occurs that you anticipate. This is true whether it's a holiday or not. By being aware that there are some things out of your control and focusing on the positive aspects of the holidays, you can take steps to having a more joyful and festive season.