Honoring Women Making A Difference In Pennsauken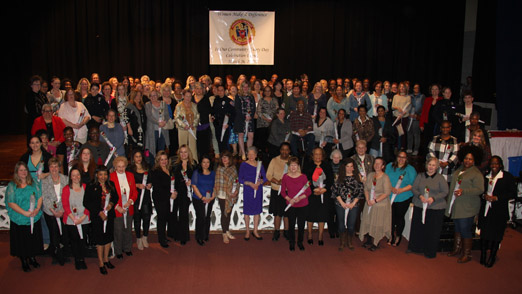 By Frank Sinatra, AAP Editor
As a part of the celebration of Women's History Month and Pennsauken's 125th birthday, the Township Committee honored women truly making a difference in the community during a special event at Phifer Middle School on March 26.
"From educators to first responders, homemakers to business leaders, these women truly make a positive impact in our community," says Pennsauken Mayor Betsy McBride. "This event merely highlights some of the many women who live and work in our Township. We thank all of them for all that they do for us."
As part of the celebration, over 100 women were recognized for their many accomplishments; Township Committee presented honorees with a rose from Harris Bouquet and a keepsake from Haines Farm and Garden as tokens of appreciation. Honorees also also enjoyed light refreshments – provided by Troy's Place – with their families and friends immediately following the event.
Several honorees shared their thoughts on the event.
"It's was great to see so many of the wonderful women of Pennsauken all in one place," says Rhonda Bello.
"It was very a nice day," says Joan Weber. "It's an honor. It made me realize how much I've done in this town. It didn't seem all that much at the time."
"I think this was wonderful; it was very special," says Maira Diaz. "We have wonderful, amazing women in this Township."
"It's great to have an event like this," adds Maira's daughter, Kristen, who was on hand to help celebrate all the honorees. "It inspires younger women to also make a difference in their community."