Keeping Dogs, Residents Safe In Pennsauken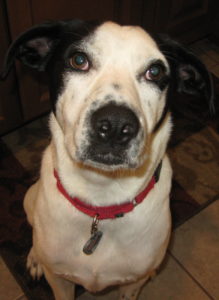 The companionship and affection you get from "man's best friend" is something pretty special. And with the warmer weather, there's nothing dogs like to do more than to go outside and run around, play fetch, and defend their home from every squirrel in the neighborhood.
This time of year also brings some challenges for dog owners. As the temperature gauge rises, you hear more stories of dogs getting out of back yards or slipping past owners when the front door opens. You'll also find a lot of flyers with lost dogs stapled to telephone polls around town. Some of these tales have happy endings. Others do not. From dog bites to hit and runs, these scenarios can lead to tragedy for both pet and owner.
Here are some reminders to help dog owners keep their pets – and their neighbors – safer during the summertime.
First off, the "common sense" statement: dog owners are responsible to take care of their animals, regardless of what time of year it is. Dogs need food, water, shelter from the elements, and veterinary care. If you own an unaltered animal (dogs that are not spayed or neutered), it's against the law to chain or tether them on your property. Spayed and neutered dogs can be chained or tethered if it allows the dog access to shelter, food, and water; used only in an area where it will not be tangled around objects; be at least 15 feet long, have a swivel on both ends, weigh no more than 1/8th of the dog's weight and be attached to a properly fitting collar or harness; it doesn't inhibit the animal's movement or cause injury, entanglement or strangulation; the tether restrains the animal on the owner's own property; and the dog is chained or tethered for no more than four consecutive hours, or six hours total hours in any twenty-four-hour period of time and never between sunset and sunrise.
When it's hot out, don't keep dogs outside for too long. If they have to go out and do their "business," or really bark at the squirrel in your neighbor's tree, make sure your pup is well hydrated and not over-exposed to the heat and humidity.
Also, it's a state requirement that all dogs are licensed and have a current rabies inoculation. New dogs must be registered with the Township Clerk by the time they are six months old. All dog license renewals occur in the month of January each year.
According to Township code, dogs "in or upon any public street, avenue or highway, or in any public or quasi-public place, or upon property owned by a person other than the dog's owner, in the Township of Pennsauken" has to be on a lease, chain, etc., which is held by an individual capable of leading and controlling the dog.
And as an aside, if your dog leaves a "deposit" while you take your fur baby for walkies, be sure to bring a plastic bag or similar item to clean up the dog waste and dispose of it properly.
Always be cautious around strange dogs. As children are the most likely to be bitten, teach them to be careful around pets and learn not to approach strange dogs or pet them through fences. It's important to ask permission from a dog's owner before petting any dog. Dog owners should socialize their pets so they feel at ease, and avoid situations where your dog might feel threatened or get teased. Insure that dog can safely remain on your property and always use a leash in public to better control your dog among neighbors and strangers alike.
Training your dog is also very important. Basic commands like "sit," "stay," "no," and "come" help dogs understand what is expected of them and can be incorporated into fun activities that build a bond of trust between pets and people.
If your dog does get out, don't panic. Social media is a great way to get the word out if you don't find your pet right away. Pages like Lost and Found Pets in South Jersey and groups like Pennsauken: Best Town in New Jersey, among others, are great resources. In addition, All Around Pennsauken's Facebook page will post lost pet notices as soon as they're received.
And if your dog does go missing, or you see a stray or lost dog, contact Pennsauken's Animal Control Officer at (856) 663-3058. If the dog that's loose seems agitated or overly aggressive, call 9-1-1 immediately.
Keeping these tips in mind will help you and your pet enjoy not only the summer together, but many dog years to come.