Living Faith Christian Center Holds Kid-Focused Free Market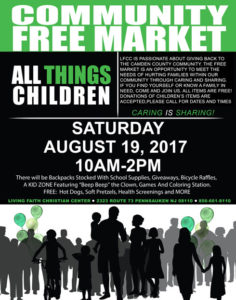 Living Faith Christian Center (LFCC), located at 2323 Route 73 in Pennsauken, is focusing its annual community free market on "all things children." Held on Saturday, Aug. 19 from 10:00 a.m. to 2:00 p.m., the event – which has drawn thousands in previous years – features backpacks stocked with school supplies; giveaways and bicycle raffles; a kid zone featuring "Beep Beep" the Clown, games, and coloring station; free hot dogs, soft pretzels, health screenings, and more.
"Living Faith Christian Center is passionate about giving back to the community. Our free market is an opportunity to meet the needs of hurting families within our community through caring and sharing," says Senior Pastor Constance McLean. "If you find yourself or know a family in need, come and join us. All items are free!"
LFCC is still accepting donations of children's items for this month's free market. To schedule a dropoff or for more information, call (856) 661-8110.