Lucky Hearts Senior Bingo On February 20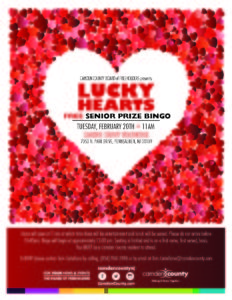 The Camden County Board of Freeholders presents Lucky Hearts: Free Senior Bingo on Tuesday, Feb. 20 at 11:00 a.m. at the Camden County Boathouse in Pennsauken. Doors will open at 11:00 a.m., at which time there will be entertainment and lunch will be served. Seating is limited and is on a first come, first served basis. You must be a Camden County resident to attend.
To RSVP please contact Tom Castellano by calling (856) 858-2986 or e-mailing Tom.Castellano@camdencounty.com.