More Solar Energy To Be Produced At Pennsauken Sanitary Landfill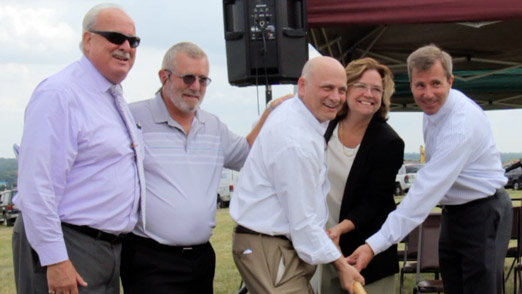 By Frank Sinatra, AAP Editor
A new project announced by the Camden County Freeholder Board and the Pollution Control Financing Authority of Camden County (PCFACC) will generate 2,700 kilowatts of solar power to the Pennsauken community. Through collaboration with Energy Power Partners, a private equity and infrastructure fund manager that makes equity investments in North American renewable energy projects and platforms, 8,000 high efficiency solar panels will be installed across 16 acres on the top of the Pennsauken Sanitary Landfill on River Rd.
"We feel very strongly about trying to create renewal energy wherever we can," says David Luthman, executive director, PCFACC. "This should about double our existing solar capacity. It's a terrific project using a closed portion of the landfill for a beneficial reuse."
The installation of these solar panels, which should be completed by the end of this year, provides a direct benefit to Pennsauken residents. The panels will be connected into the local grid and produce about 3.5 million kilowatt hours per year, which could power up to 300 homes. There is also a significant environmental impact.
"According to the EPA, the equivalent of greenhouse gas reductions is about 2,700 tons per year, which is the same as not burning 2.7 million pounds of coal, planting 300 acres of forest, or reducing the import of 5,700 barrels of oil," explains Steve Gabrielle, partner of Energy Power Partners and president of EPP Corporation.
This project is the fourth initiative undertaken by Camden County and Energy Power Partners at the Pennsauken Sanitary Landfill. Previously, Energy Power Partners built a foundry that processes the methane gas created from the degradation of waste, as well as two previous installations of a total of 11,000 solar panels. The previous three projects help to provide renewable energy at a reduced rate to Aluminum Shapes, the neighboring business that employs hundreds of South Jersey residents.
"When you have available space where you can provide renewable energy sources, you have to take advantage of it," says Camden County Freeholder Jeffrey Nash, who spoke about the county's aggressive initiative to reduce its carbon footprint by 50 percent. "It's also significant that you have one of the county's largest employers in Aluminum Shapes and we can offer them business assistance by providing them with less costly energy. So this is really a win-win. We are helping our local businesses, which employ our residents and we're also reducing our carbon footprint."
"We are thrilled in Pennsauken that this new project will afford us the opportunity to have energy provided here for residents. It's on the grid and it's local energy," adds Pennsauken Mayor Betsy McBride. "And to be able to help support Aluminum Shapes with cheaper energy is great. We're a business friendly community, but we also are strongly supportive of any environmental improvements that can help us.
"It's taken a long time for people to realize that renewable energy is the way to go and the way of our future. It's wonderful to have great partners that see that and work at it every day."