New Jersey Economic Development Authority Visits Edison Retail Solutions In Pennsauken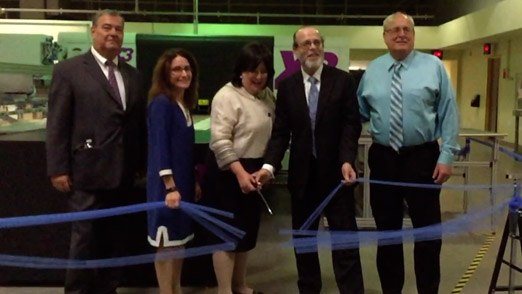 By Frank Sinatra, AAP Editor
As part of the New Jersey Economic Development Authority's (EDA) ongoing efforts to raise awareness of the financing programs offered to support businesses across the state, EDA CEO Melissa Orsen visited Pennsauken's Edison Retail Solutions on Suckle Highway.
Edison Lithography and Printing has delivered the highest quality, cost-effective printing services, temporary displays, in-store décor and signage for the retail industry for over five decades. In 2015, Edison, which has its primary office in North Bergen, N.J., acquired Compass, a display company in Georgia; in 2016, the business formed a new entity: Edison Retail Solutions. Following the formation of the new company, Edison's co-owners, husband and wife Joseph and Susan Ostreicher, joined by Susan's brother George Gross, opted to open a second location, ultimately purchasing the former Hill-Rom building for $4.223 million.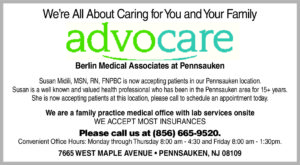 In June of last year, the New Jersey EDA Board approved Edison for Grow New Jersey tax credits to encourage the company to remain in New Jersey and set up a new operation in Pennsauken rather than Kennesaw Georgia. The approval was based on the expected creation of 95 jobs in New Jersey, in addition to the retention of 60 employees that were at risk of being relocated out of state. Grow New Jersey is a powerful job creation and retention incentive program that strengthens New Jersey's competitive edge in the increasingly global marketplace under the Economic Opportunity Act; and according to the EDA, Pennsauken's business environment has greatly benefited from this initiative.
"Out of the Economic Opportunity Act, which is the legislation that was signed in 2010, we've had 10 or 11 Grow awards in Pennsauken alone, which is significant," says Orsen.
Edison's facility in Pennsauken is strategically significant. The company is currently in the process of moving equipment and some staff from the 40,000 square foot Georgia location to the much larger 115,000 square foot space here, taking advantage of Pennsauken's access to major transportation arteries, which provides more direct routes to the Midwest, the Northeast corridor and down South. The facility in Pennsauken is also much closer proximity to Edison's North Jersey office, helping to streamline processes and making it more conducive for manufacturing.
"We're taking and merging the Kennesaw facility into [the Pennsauken] facility, which will be handling a lot of different display work," explains Kevin Neureuter, CEO, Edison Retail Solutions.
"We're downsizing [Georgia] dramatically. Now with the space and the equipment we have here, what they could produce in a day, we can do here in two hours," adds Joseph Ostreicher, COO, Edison Retail Solutions. "The equipment [in Pennsauken] is eight times as fast."
The three year prospectus for Edison's Pennsauken facility conservatively estimates five percent growth year over year in certain product categories, not including a push into additional markets that complement the company's current capabilities, transforming Edison into a one-stop shop for customers.
"The customer has a comfort level knowing that it's all under one roof," says Ostreicher.
Edison is also actively looking to expand its workforce.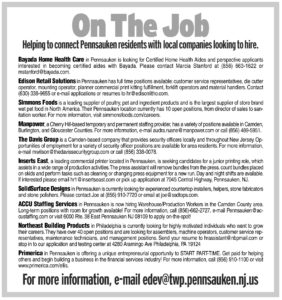 "We're currently at 50 employees. We will be pretty close to 100 by the end of the year," says Neureuter. "We also use significant temporary employees; it's seasonal or project-based. As we start to get more and more business, that levels out and you have your staff as you need it.
"We're looking for folks that can run equipment that can produce some of our products that we will then pack into boxes. The largest number of employees that we'll be adding here will be individuals that will either assemble our products, or will be placing products into a kit pack box that will go out to different stores."
Both Pennsauken's Deputy Mayor Jack Killion and Terry Carr from the Township's Economic Development Department were on hand during Melissa Orsen's visit to Edison Retail Solutions, receiving a tour of the facility and helping to cut the ribbon on the business' new digital printing press.
"This is exciting. It's an honor for me to be here," says Killion. "It's wonderful to have your operation in town. It's wonderful for the state and what they do to help businesses. Companies like Edison that are investing in our community are what help make Pennsauken strong."
To learn more about EDA financing options available to manufacturing companies, visit http://www.njeda.com/manufacturing. For more about opportunities for business growth throughout New Jersey, visit the State's business portal at www.NewJerseyBusiness.gov or call the Business Action Center at (800) Jersey-7.