New, Unwrapped Toys Needed For Pennsauken's Angel Tree Program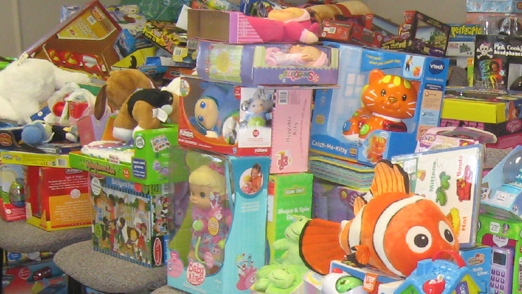 Pennsauken residents and businesses are pitching in to help children in the community during the holiday season through the Angel Tree program, which collects new, unwrapped toys for families in need.
"The Angel Tree makes a real difference for Pennsauken families in need," says Elwood "Duke" Martz, director of Pennsauken's Parks and Recreation Department. "Thanks to the generosity of our community, many children who were going to wake up on Christmas morning without any presents are now going to have a gift under the tree."
Last year, over 30 Pennsauken families were helped through the Angel Tree program; the initiative for 2015 plans to support the same number of families.
The Angel Tree was started over 20 years ago by then administrator Ken Carruth and Bernie Kofoet, who served the Township for many years as the superintendent of Pennsauken's Public Works Department. The two placed a Christmas Tree at the Penn Queen Diner, allowing both patrons and members of the community an opportunity to help their neighbors in need during the holidays. The success of that endeavor turned into today's Angel Tree program.
Individuals can purchase a new, unwrapped toy and leave it at the Pennsauken Township Municipal Building, Route 130 and Merchantville Avenue, under the tree during normal business hours now through 4:00 p.m. on Thursday, Dec. 17. Monetary donations are also greatly appreciated.
In addition, the Pennsauken-Merchantville Area Chamber of Commerce is hosting a holiday happy hour to help "kick-off" this year's donations on Thursday, Dec. 3 from 5:00 to 7:00 p.m. at the Double Nickel Brewing Company, 1585 Rt. 73 North, Pennsauken. The event features a tour of the brewery, beer specials, and a free buffet provided by Chef Les of Colleen's Caterers. All attendees are asked to bring a new, unwrapped toy for the Angel Tree Program. To RSVP for the event, e-mail pmac1team@gmail.com or call (856) 438-0833.
For more information or to volunteer for the Angel Tree program, contact Pennsauken's Park and Recreation Department at (856) 665-1000, Ext. 151.