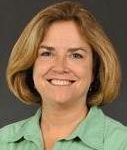 By Betsy McBride, Mayor of Pennsauken Township
As I write this column, we are basking in 70 degree temperatures and our plants are starting to bud. Even if we get another blast of winter, our thoughts turn to spring. We are almost there!
I know when I think of spring, I feel it in my bones and I want to spring clean: open the windows, clean the car, and turn my winter yard into a spring one.
Looking around my yard, I see I have some work to do. Do I go back in and pretend I didn't see the mess? Or do I set to the task? I know I will feel better if I clean up the yard, both in my body and my mind. I will get some exercise and I will appreciate the beauty as it unfolds. Sitting on my porch in the evening, I will feel good. When the space around us looks better, we can't help but feel better.
Noticing how good I feel after I have cleaned up my yard, I also notice how bad I feel when I see litter on our highways, along our streets, in front of our stores, and in our yards. All trash is not litter. Litter is trash not put in the right place. I think we can work together to deal with this issue.