Pennsauken-Based "Anthony's Avengers" Raising Funds For CHOP
On Sunday, Sept. 25, "Anthony's Avengers" of Pennsauken will rally together for the annual Parkway Run & Walk held at Eakins Oval on the Benjamin Franklin Parkway.  The Parkway Run benefits childhood cancer research and survivorship programs at The Children's Hospital of Philadelphia's world-renowned Cancer Center. The Cancer Center is one of the largest pediatric cancer programs in the nation, making breakthroughs in cancer treatment that impact the lives of children across the nation and around the world.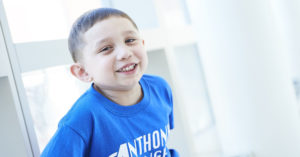 Five-year-old Anthony, an energetic kindergartner who attends Franklin School and has lived in Pennsauken with his family for the past eight years, was diagnosed with Ewing Sarcoma of the scalp in April of last year and received a clean bill of health on December 24, 2015, the family's Christmas gift. He says that his doctors at CHOP were "great" because they "gave me medicine" to feel better.
"We are completely indebted to CHOP," says Maria, Anthony's mother. "They helped tremendously, not just for treating Anthony, but also supporting us emotionally, helping us cope through the entire process."
This is the second year "Anthony's Avengers" will be participating in the Parkway Run & Walk. Proceeds from the event benefit the pediatric cancer research and care at The Children's Hospital.
"The Parkway Run & Walk is amazing," explains Maria. "There's a massive amount of people that are going to be out there at the same time to support the same cause. It's also an opportunity to see other families who have been or are going through what you've experienced with your own child."
"Childhood cancer is the leading cause of death from disease in children under the age of 15," said Stephen P. Hunger, M.D., chief of the Division of Oncology and director of the Center for Childhood Cancer Research at The Children's Hospital of Philadelphia. "While CHOP researchers and many other pediatric cancer centers are making great progress in the search for a cure, more funding is needed for us to reach our goal of eliminating deaths from pediatric cancer.The Parkway Walk & Run is a great way for our friends, families and neighbors to support this effort and increase the visibility of pediatric cancer in our local communities."
The Parkway Walk & Run is held on Sunday, Sept. 25 at the Benjamin Franklin Parkway, Eakins Oval in Philadelphia. The last day to register online is Saturday, Sept. 17. Registration and packet pickup opens the day of the event at 7;00 a.m. The 5K Fun Run begins at 8:30 a.m., followed directly by the 2K Family Fun Walk.
For more information about the Parkway Walk & Run, visit http://parkway.chop.edu. To read more about Anthony's story, click here.