Pennsauken Celebrates Fall With Car And Bike Show, Harvest Festival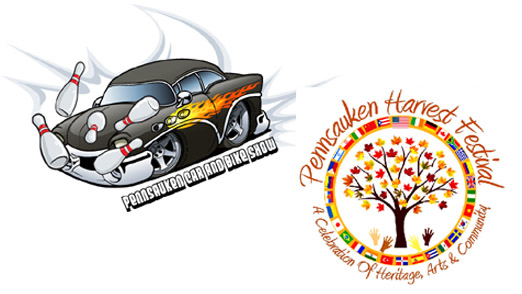 By Frank Sinatra, AAP Editor
Fall is in the air, and with it two annual Pennsauken events are right around the corner: the 23rd annual Car, Bike and Craft Show, and the second annual Harvest Festival. Each event offers a wonderful opportunity for members of the Pennsauken community to come together.
Start Your Engines
Pennsauken Township and the Pennsauken-Merchantville Area Chamber of Commerce present the town's 23rd annual Car, Bike and Craft Show. Held on Sunday, Sept. 20 from 11 a.m. to 4 p.m., hundreds of antique, classic and custom cars and motorcycles will line up along a stretch of the "Maple Mile" that runs from Canning to Union avenues in Pennsauken, and includes the parking lot for Pinsetter Bar and Bowl, 7111 Maple Ave. The popular craft show, now in its third year, continues to grow with 40 vendors anticipated to attend. In addition, the Pennsauken Car, Bike and Craft Show features music, food, and family-friendly entertainment.
2015 Car, Bike And Craft Show from Pennsauken Township on Vimeo.
"This is a great event that people look forward to every year," says Elwood "Duke" Martz, head of Pennsauken's Parks and Recreation Department. "We're once again hoping for some great fall weather, so that thousands of people can enjoy the many cars and bikes that come to our show each year."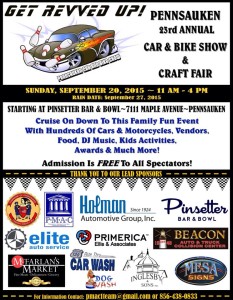 Year after year, local businesses continue to help make the Pennsauken Car, Bike and Craft Show possible with financial support. The event's major sponsors are Beacon Auto and Truck Collision Center, CRW Graphics, Elite Auto Service, Holman Automotive Group, Inc., Inglesby and Sons Funeral Home, McFarlan's Market, Mesa Signs, Pinsetter Bar and Bowl, and Primerica, Ellis and Associates.
"This is a wonderful event that our Pennsauken community has enjoyed for many years," says Pennsauken Mayor Rick Taylor. "We truly appreciate the support of the businesses and organizations that help make the Pennsauken Car, Bike and Craft Show possible."
There will be 22 judging classes for cars, from Stock Production to 1953 to All New Cars, 2010 to Present, as well as nine judging classes for motorcycles, from Full Dresser to Antique Bikes.
As attendees enjoy viewing the many cars and bikes on display, they can also enjoy a parking lot full of activity. Pinsetter Bar and Bowl will have set up a barbecue tent with tables and chairs for people to sit, eat, and relax. There will also be some family-friendly entertainment, including inflatable amusements, balloon twisting, face painting, live musical performances, and disk jockeys spinning the both classic and the latest hits.
As with last year, every effort is being made to reduce the impact on the neighborhoods along Maple Ave. and adjoining streets. Local residents will have access to major throughways and can get in and out of the area during the event. In case of inclement weather, the rain date for the Car, Bike and Craft Show is Sunday, Sept. 27.
Registrations for cars and bikes are still being accepted at the Parks and Recreation Department of Pennsauken Township, 6505 North Crescent Blvd., Pennsauken, and online at the Township's web site, twp.pennsauken.nj.us.
Celebrating Pennsauken's Rich Culture
The Pennsauken Township Public Events Committee, in association with the Pennsauken Township Fire Department, will host the second annual Pennsauken Harvest Festival, a celebration of heritage, arts and community. The free event, held on Oct. 10 from 11:00 a.m. to 4:00 p.m. at the Pennsauken Community Recreation Complex on Westfield Ave., will highlight Pennsauken's diverse cultural identity with a celebration of arts and community.
"Last year, we welcomed 3,000 people to Pennsauken's Harvest Festival," says Township Committeewoman Betsy McBride. "We look forward to sharing the music, dance, arts, crafts and games of a wide variety of cultures with both families returning this year, as well as new visitors to our event."
Pennsauken Harvest Fest Promo from Pennsauken Township on Vimeo.
The Harvest Festival features two stages for performances that will be held throughout the day. The Pennsauken Fire Department will also be holding a variety of demonstrations in conjunction with Fire Prevention Month. "We've got something for everyone," explains Thom Tillinghast, event chairperson. "We'll have performances occurring throughout the day, so attendees are encouraged to bring a lawn chair or a blanket to sit and enjoy a lot of wonderful singing and dancing. We will also have a demonstration from area skateboarders at the great skate park that's on site."
Rows of vendors and crafters will line the parking lot of the Recreational Complex and festival goers can sample tastes from area restaurants and food purveyors. There will also be plenty of free activities for the kids, including scarecrow making, pumpkin painting, sack races, basketball and soccer shootouts, inflatable bouncers, balloon twisting, and face painting. Plenty of regular and handicapped parking will be available for attendees.
"There will be so much to do and see and taste at the Harvest Festival," adds McBride. "It's going to be a great event for the entire family."
The rain date for the Harvest Festival is Sunday, Oct. 11. For more information, visit the event's page on Facebook.