Pennsauken Harvest Festival Moved To October 9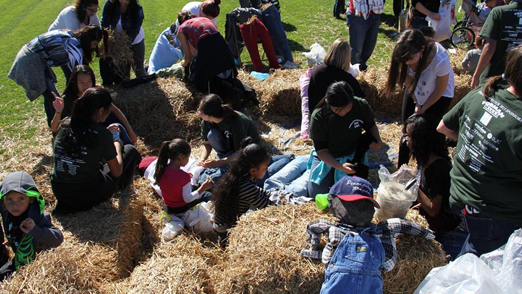 DUE TO THE WEATHER FORECAST, THE PENNSAUKEN HARVEST FESTIVAL HAS MOVED TO THE RAIN DATE OF SUNDAY, OCTOBER 9
By Frank Sinatra, AAP Editor
The Pennsauken Township Public Events Committee, in association with the Pennsauken Township Fire Department, will host the third annual Pennsauken Harvest Festival, a celebration of heritage, arts, and community. The free event, held on Sunday, Oct. 9 from 11:00 a.m. to 4:00 p.m. at the Pennsauken Community Recreation Complex on Westfield Ave., will highlight Pennsauken's diverse cultural identity with a celebration of arts and community.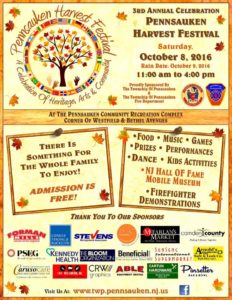 "Last year, we welcomed 3,000 people to Pennsauken's Harvest Festival; we look forward to having even more guests join us on Oct. 9," says Captain Dan Kerr, fire marshal of the Pennsauken-Collingswood Fire Prevention and Inspection Bureau and chairperson of this year's event. "The Harvest Festival is not only a great showcase and celebration of Pennsauken's cultural diversity, but it also helps to create more awareness about the importance of fire safety and the role the fire department plays in our community."
The Harvest Festival will have music and dance acts throughout the day, mixing in a variety of demonstrations by the Pennsauken Fire Department, held in conjunction with Fire Prevention Month, a time of year to focus on promoting the importance of fire safety in the community. This year's theme is "Don't Wait – Check the Date! Replace Smoke Alarms Every 10 Years."
And for the first time, festival goers will have an opportunity to explore the New Jersey Hall of Fame's mobile museum. Through the power of images, artifacts, film, and a suite of interactive tools, New Jersey's leaders and legends are made accessible to every curious imagination. In fact, Pennsauken has two representatives in the New Jersey Hall of Fame: world heavyweight boxing champion Jersey Joe Walcott, and labor leader and "Father of Labor Day" Peter J. McGuire.
"We're excited to have the New Jersey Hall of Fame's mobile museum this year," says Betsy McBride, Pennsauken Township committeewoman and honorary chair. "Step inside the trailer and get inspired by some of the people who have made New Jersey great."
Rows of vendors and crafters will line the parking lot of the Recreational Complex, located next to the Merchantville-Pennsauken Water Commission building, north of Cove Rd. Festival goers can also enjoy a wide variety of fare from many food trucks. There will be plenty of free activities for the kids, including scarecrow making, pumpkin painting, sack races, soccer shootouts, inflatable bouncers, jump rope making, balloon twisting, and face painting. And for the brave of heart, there will even be a mechanical bull.
Plenty of regular and handicapped parking will be available for attendees and traffic assistance will be provided by Pennsauken Police.
"There will be so much to do and see and taste at the Harvest Festival," adds McBride. "It's going to be a great event for the entire family."
For more information, visit the event's page on Facebook.