Pennsauken Honors The Best Moms, Dads, And Guardians In Town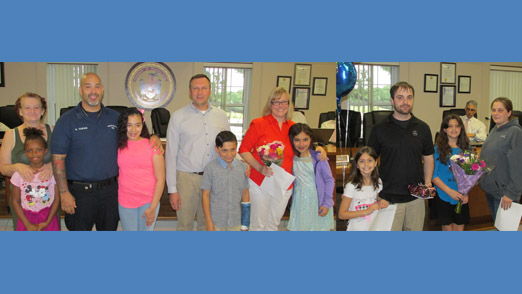 By Frank Sinatra, AAP Editor
A single mother of two who gave her children a summer to remember and a dad who teaches the importance of giving back to those less fortunate were chosen as the Best Mom, Dad, or Guardian in Pennsauken.
Sponsored by the Pennsauken Youth Action Committee, the Best Mom, Dad, or Guardian essay contest enables children in grades three, four, and five in any Pennsauken public, parochial, or private school to submit a letter stating why they believe that their parent or legal guardian is the best. Letters were judged by a panel based on originality, content, and ability to express feelings or ideas. The top three winners in each category were honored at the Township Committee meeting on May 24.
"Every year, we receive hundreds of submissions. It's a very, very difficult job for all of us to read all these letters and pick the top three," says Elwood Martz, a member of the Youth Action Committee. "We thank all of those who participated in this contest and we congratulate the winners."
The winning Best Mom essay was written by Alaina Venditti, a fourth grader at Burling Elementary, about her mother Alysha Morey. "My mother is my world. She is a single mother of two, my brother and I. She is one of the nicest adults I know."
Alaina also wrote about last summer, "one of the best summers in my life."
"My mother saved enough money to take us to Disney World in Florida. She knew it was something I deeply wanted to do. We had a blast with each other, but I think the best part was to spend family time with her."
Luke Paul-Joseph Wackes, a third grader from Saint Peter's School, thinks his dad, John, is the best in Pennsauken "because he is kind, sweet, funny and hard working."
John encourages his son to try new things, like pitching in a ball game. He also teaches Luke the importance of giving back.
"Once a month, we go to a clinic in Camden to help poor people. We give out donated food and clothes, while others visit the health clinic. I watch my Dad translate in Spanish to help the people."
One line in Luke's submission was particularly moving.
"The best of all these things is that he chose me. Me and my sister were adopted. He didn't have to be a dad, but I am so lucky that he is mine!"
Several students received honorable mention as part of the very difficult selection process. Quisaiya Cooper wrote about her great-grandmother, Edith Kline, who takes care of her and her brother and is "the nicest person you could ever meet;" she also makes a mean apple pie.
Maureen Rowan wrote about her mother, Courtney, a "really good teacher" who always gets her daughter books from Barnes and Noble and wants her children to get a good education. "She even lets us swim a lot in the summer."
Analise Cuevas' father Robert is originally from Brooklyn New York and rode in on the second ambulance headed to the World Trade Center in response to the terror attacks on 9/11. "My dad is my hero. That day is a sad day for my dad, but he always stays strong."  Robert also has a lighter side, and makes his daughter laugh by dancing.
Karly Morey sent in a short but sweet letter about her dad, Bryan. "I love him so much, when he went to sign up for college, I went with him, even though I knew it would be boring. I care about him and he cares about me."
"This is one of the most moving days of the year for us on Township Committee. The writing is very strong; the kids' emotions come through loud and clear," says Pennsauken Mayor Betsy McBride. "They are really showing us their Pennsauken pride in their parents."
The Pennsauken Youth Action Committee thanks all those students who participated in this year's contest, the teachers who encouraged them to write about their parents and guardians, as well as those caring and dedicated men and women throughout Pennsauken who inspire their children.