Pennsauken Lions Holds Popular Cigar Night On October 23
By Mary Anne McFarland, Pennsauken Lions Club
Last year's extremely popular "Cigar Night" fundraiser returns to Steak 38 Café, 515 Rt. 38, Cherry Hill, on Monday, Oct. 23, at 6:30 p.m. Owner Joe DiAmore and his wife, Judy, both members of the Pennsauken Lions, will once again be our gracious hosts. The cost is $65 per person and includes appetizers, dinner, dessert and two premium cigars. Space is limited; reservations are requested by Monday, Oct. 16 and can be made at pennsaukenlionsclub@gmail.com or by calling (856) 662-3838.   
Lions To Celebrate Diamond Jubilee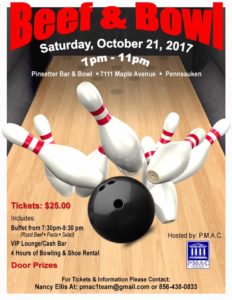 The Lions are celebrating 75 years of community service to Pennsauken with a special diamond jubilee celebration on Monday, Nov. 27. The event will also honor the Lions Club's 2017 Citizen of the Year, Phil Morgan, current president of the Pennsauken Youth Athletic Activities (P.Y.A.A.). Phil moved to Pennsauken in 1970 with wife, Pat, and their three children. He quickly became involved in P.Y.A.A., first serving as equipment vice president, and the taking on the role of the organization's president for the last 15 years. He is also the building custodian, making sure the Field House is ready for the many activities held there. Morgan is a parishioner at Mary Queen of All Saints parish in Pennsauken and ushers at the 4:30 p.m. Mass. Family and friends are invited to share this special evening with Phil.
The event will be held at the P.Y.A.A. Field House, 3501 Elm Ave., beginning at 6:00 p.m. The cost is $35 per person and includes dinner and dessert. The Lions hope that former Lions, Leos, and past citizens of the year will attend to help us celebrate. Attendees are asked to R.S.V.P. by Nov. 17 to pennsaukenlionsclub@gmail.com or by calling Mary Anne at (856) 313-7751.
The Lions Club is open to anyone 18 years of age or older who would like to be of service to the Pennsauken Community. Anyone interested should contact Pennsaukenlionsclub@gmail.com.