Pennsauken Native Raising Funds With T-Shirt

By Frank Sinatra, AAP Editor
Pennsauken native Kimberly McDermott has started a "Sauken" themed fundraising campaign to help support the Leukemia and Lymphoma Society.
McDermott, who grew up in the East Pennsauken section of town and is a member of Pennsauken High School's graduating class of 1992, currently works in oncology research in Northern Virginia. For the past two years, she's raised funds for cancer research and support for those battling the disease. Her latest fundraising effort was inspired by a fellow PHS alum.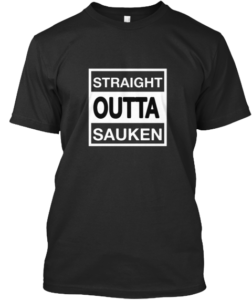 "I was added to the '*Pennsauken'$ Finest*' Facebook page by a high school friend. Fellow alumnae Lawrence Hicks posted a photo of himself in a t-shirt that read 'Straight Outta Sauken.' Many of us appreciated the shirt, so I created a few on Teespring."
Kimberly is donating 100 percent of the proceeds from the shirt to the Leukemia and Lymphoma Society, the world's largest voluntary health organization dedicated to funding blood cancer research, education and patient services.
"I wanted to do something that empowers others to give back," adds McDermott. "I'm hoping that people will get on board both for the message on the shirt and to help raise funds for a worthy cause."
The shirts are available for purchase now through June 30. For more information, or to order the shirt, click here.