Pennsauken Police Unveil Safe Exchange Zone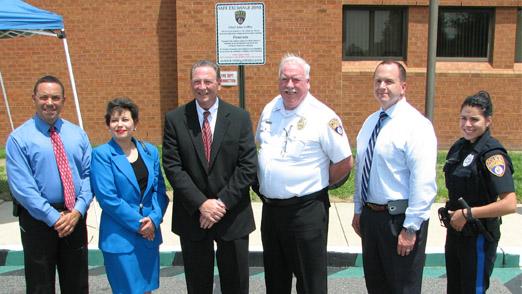 By Frank Sinatra, AAP Editor
The Pennsauken Police Department recently created a Safe Exchange Zone for use by members of the community. Located in the front parking lot of the Pennsauken Police Station, 2400 Bethel Ave., and monitored by camera 24 hours a day, seven day a week, the Safe Exchange Zone can be used for internet transactions and child custody exchanges. Members of the Pennsauken Police Department and Pennsauken Township Committee, as well as Camden County Freeholder Carmen G. Rodriguez, were on hand for the official unveiling.
"This is a safe facility to do either a custody exchange or use social media for buying or selling. Now, if a person from anywhere wants to meet, this is a much safer spot," explains Police Chief John Coffey. "We also have a police officer on duty 24 hours a day just inside the lobby of our police station."
In addition, the Safe Exchange Zone adds a layer of security and accountability for custody exchanges that were already occurring in the Police Department's parking lot.
"It's a simple concept that can bring a lot of security. When we have families that are in conflict, it's a contentious situation," says Freeholder Rodriguez. "There will be an immediate response, should something go wrong. Also, there is recording and evidence, so we can prosecute appropriately and effectively. That's also a deterrent."
The creation of the Safe Exchange Zone was a $30,000 investment that helps enhance the security of the community. Pennsauken Police painted out two separate parking spaces immediately adjacent to the station, updated all the lighting in the parking lot, and upgraded all the cameras around their building. Both the police and Township officials stressed the importance of encouraging the entire community to take full advantage of this unique space.
"We really want to get the word out to our community," adds Pennsauken Mayor John Kneib, who also serves as the Township's director of public safety. "This is just an outstanding effort from our Pennsauken Police Department to further the safety of the residents of not just Pennsauken, but surrounding towns."