Pennsauken Resident Wins State Championship Free Throw Contest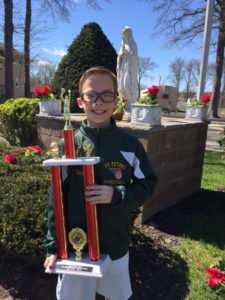 Ten-year-old Will Hatley, a Pennsauken resident and student at Saint Peter's School in Merchantville, was a winner at the 44th annual Knights of Columbus Free Throw Championship, held April 3 at St. John Vianney Parish Center, Colonia, N.J.
Created in 1972, the Knights of Columbus Free Throw Championship attracts hundreds of thousands of young competitors each year; the organization estimates 350,000 youngsters participate in local rounds throughout the nation.
The championship is set up to have the contestants compete within their own gender and age group. All competition starts at the local level. Winners move on to the district, regional, and state or provincial levels. From there, some make it to the international level for championship competition in their group.