Pennsauken Schools Hold First-Ever Choir Festival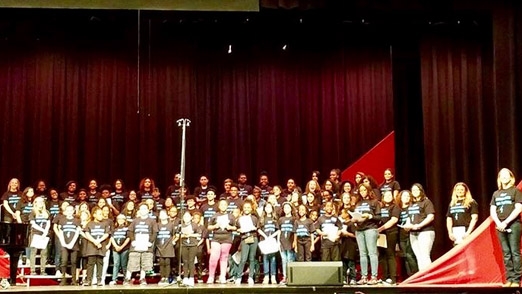 Pennsauken's vocal music directors held the first annual Pennsauken Choir Festival at Pennsauken High School. This day-long event was a celebration of music, learning, and performing for all levels of Pennsauken choral students.
Over 100 choral students, grades four through 12, gathered with several conductors to learn new music, meet other Pennsauken singers, and share their talents in a culminating performance for their families and community members.
The festival's ensembles were structured in a unique way, enabling students to learn from different directors and singers that they normally study with. Each group spent several hours learning and polishing their own repertoire throughout the day to prepare for the evening's performance, which included a combined finale with all choirs and grade levels participating.
The choir festival was very well received by students and parents alike. Parents and family members had many positive compliments on the performance and were incredibly appreciative of the time and effort it took to produce an event like this for Pennsauken students.
Singers of all ages and grade levels, in their own words, "had such an awesome day!" They returned to their home schools bursting with pride and excited to share their experiences and music with fellow choir students who were unable to attend.
Pennsauken School District has a long history of successful choral music programs; aside from the invaluable music learning and performing benefits that accompanied the festival, there was also a unique recruitment opportunity inherent in the way the day itself was structured. One of the goals of the festival was to give students the opportunity to see the bigger "musical picture" outside of their home choir, grade level, or school. This was a chance for students to see that the time and effort they invest in their vocal study will prepare them for the next level, be it intermediate, middle, or high school. On this festival day, all students were truly able to feel as though they were part of that next level of excellence.