Pennsauken Throws Summertime Birthday Bash On August 27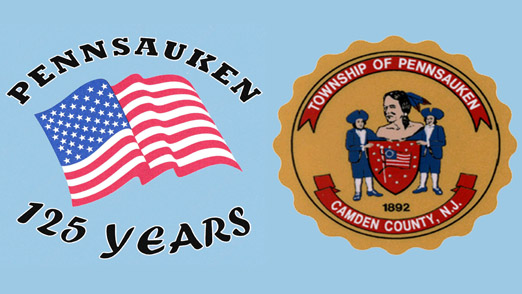 By Frank Sinatra, AAP Editor
As a signature event for Pennsauken's 125th anniversary, the Township has planned a gigantic community-wide birthday bash on Sunday, August 27, held from 4:00 to 9:00 p.m. at the Pennsauken Community Recreation Complex, located at Westfield and Bethel avenues.
"We've put together quite a birthday party to help the town celebrate our 125th anniversary," says Bill Orth, Pennsauken Township Committee. "This event isn't just for Pennsauken residents and our neighbors. This party serves as a homecoming for those who have moved away from town."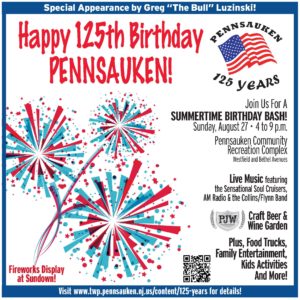 The summertime birthday bash has something for everyone. For the foodie, there will be a diverse selection of food trucks, including Mary's Mobile Diner, Lil Trent's Grille, Kona Ice, Dump-n-Roll, Not Your Mama's Tacos, PJ's Pub, and Beast of the Street, offering a wide variety of fare. There will also be a craft beer and wine garden provided by P.J. Whelihan's. For the music lover, there will be live performances from the Collins/Flynn Band, the popular cover band playing classic pop hits of the 1960's – everything from the Beatles to the "one hit" wonders; the Sensational Soul Cruisers, an 11-piece band with horns fronted by four soulful vocalists who pay homage and tribute to classic performers from Otis Redding and the Drifters to Barry White and the Commodores; and AM Radio, playing "all the songs you grew up listening to, even the ones you've forgotten." And for families, there are games for both kids and adults; inflatable bounce houses; meet and greets with costumed characters; kid-friendly entertainment, including balloon twisting and face painting; and more.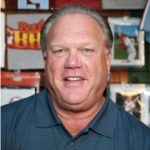 A special guest attending Pennsauken's 125th birthday bash is none other than Greg "The Bull" Luzinski, the hard swinging left fielder that helped the Philadelphia Phillies win the World Series in 1980. Luzinski will be available for autographs and photo opportunities between 5:00 and 6:30 p.m.
Attendees are also encouraged to bring blankets for when the sun goes down; an intense fireworks display will cap off a day of fun and festivities.
"This birthday bash is a wonderful opportunity to come together and celebrate a community 125 years in the making," says Pennsauken Mayor Betsy McBride. "My colleagues and I on Township Committee hope that all of our Pennsauken families join us for this special event."
For more information and a schedule of events, visit http://www.twp.pennsauken.nj.us/content/125-years.