Pennsauken Township Supports Dine Out For Hunger

By Rick Taylor, Mayor of Pennsauken Township
September's known for a lot of things: the last, hazy days of summer; Labor Day celebrations with family and friends; and much to the dismay of children throughout Pennsauken, the start of school. But September is significant for another important reason: Hunger Action Month.
Every day in South Jersey, there are more than 200,000 people who have no idea where their next meal is coming from. Out of that number, 35 percent are children and 12 percent are seniors. Many more are families that struggle from paycheck to paycheck, trying to balance the difficult tightrope of paying bills or putting food on the table.
That's why the work of the Food Bank of South Jersey, headquartered right here in Pennsauken, is so important. Partnering with their network of over 200 food pantries and meal kitchens, this wonderful organization works diligently to provide prepared meals and groceries to those in need. As the Food Bank says, they are the last safety net to prevent families in our South Jersey community from going to bed hungry.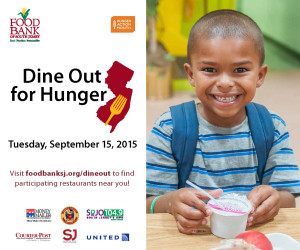 For the first time ever, Pennsauken Township is a proud sponsor of the Food Bank of South Jersey's Dine Out for Hunger Campaign. On Tuesday, Sept. 15 participating restaurants, including Pennsauken's own Penn Queen Diner, will donate a portion of proceeds from that day's receipts to the Food Bank. It's really a win-win. You get to enjoy a great meal out, and the Food Bank of South Jersey gets much needed funds to help support their mission of feeding the hungry of our community.
I strongly encourage you to visit http://www.foodbanksj.org/dineout.html to learn more about Hunger Action Month and the Dine Out for Hunger Campaign. And on Sept. 15, stop by a participating restaurant for lunch, or dinner. Try visiting a place you've never been too; or head out to a traditional, go-to establishment for a great meal like the Penn Queen. The person you'll be helping might be a neighbor, family member, or friend.
On behalf of myself and the entire Township Committee, I wish you and yours a wonderful and prosperous start to your fall.