Pennsauken's Clark, Taylor Receive Camden County's 2018 MLK Jr. Freedom Medal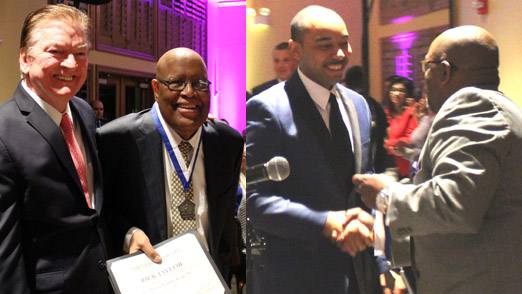 By Frank Sinatra, AAP Editor
Pennsauken residents Davon Clark and Rick Taylor were among 13 Camden County residents honored for their work in the community during the 2018 Martin Luther King, Jr. Freedom Medal Awards. Held last month at the Camden County Boathouse in Pennsauken, the annual event – which has taken place since 2001 – recognized those who have selflessly contributed their time and effort to better their community in conjunction with the goals of the late Dr. Martin Luther King, Jr.
"It's great to have anybody from our Camden County community to be recognized, but we have some very special people from Pennsauken here tonight," says Lou Cappelli, Jr., director, Camden County Board of Freeholders. "Both have had years and years of selfless service to community and they really reflect the true values of Martin Luther King.
"This is the biggest turnout we've ever had. We have over 240 people here tonight for the honorees and I can tell you maybe half of them are from Pennsauken. Pennsauken really came out in numbers tonight."
"Being Rick Taylor's friend and knowing him for well over 25 years, I'm very happy for him. It's well deserved. He's a great husband, father, grandfather, and person," adds Pennsauken Mayor Jack Killion. "And Davon, what a force he is in his own right; he saw a need and worked to make things better. Pennsuken's doing very well with having two residents nominated for this great award."
Inspiring Children To Learn And Achieve
Davon Clark has over 17 years of experience and training in the educational and entertainment fields; obtained two NAACP Image Awards for his work on TV One's critically acclaimed docu-series, "UnSung;" and works as an educational instructor in Philadelphia, the Bronx, Los Angeles, and Camden. Davon developed ADC Kid (A Davon Clark Kid), a startup children's multimedia educational company based in Pennsauken that is dedicated to the advancement of empowering and enlightening through interactive literacy, fitness, and basic math skills.
"Receiving this award means a lot. It means that people recognize that I'm actually out here trying to make a difference and help our youth," says Clark. "Hopefully, it'll help push things forward.
"I feel that everyone is placed on this earth to leave their mark. I hope that this accomplishment will inspire others that they can do it as well: to leave their mark and give back to others."
Longtime Educator And Public Servant
Rick Taylor has dutifully served the community of Pennsauken Township for decades. As an educator for over 40 years, Mr. Taylor served as teacher, assistant principal, principal, and director of personnel for the Pennsauken School District. During his career, he also found time to give back as an assistant football coach and head golf coach at Pennsauken High School. Rick also has an ongoing commitment to public service as member of Pennsauken Township Committee since 1994, holding the position of mayor nine times. A principled man of faith, Rick has long served his parish of Saint Stephen's Roman Catholic Church as a lector, and serves on the board of the Office of Black Catholic Ministry for the Diocese of Camden.
"I'm humbled by the award," says Taylor. "It certainly makes you appreciate people appreciating you."
Rick's spirit of giving has been inspired by his parents' example.
"I had parents who gave a lot," explains Taylor. "I learned that you pass it on. I've had a lot of blessings in my life; it's just a matter of passing it along."
And at age 71, Taylor shows no sign of stopping.
"As long as I can take a breath and help somebody, I'm going to try and do it."
For bios and videos on each of 2018's honorees, visit http://www.camdencounty.com/2018-martin-luther-king-jr-freedom-medal.