Pennsauken's Riverfront Village Receives Housing Revitalization Award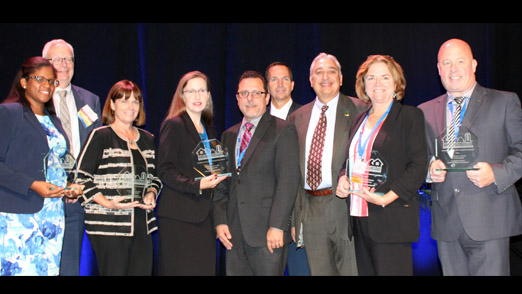 The Riverfront Village at Pennsauken was one of four real estate development projects honored with Governor's Excellence in Housing and Economic Development Awards at the 2017 Annual Governor's Conference on Housing and Economic Development.
"Development of housing for individuals with special needs has been a priority for the Administration," said Charles A. Richman, Commissioner of the New Jersey Department of Community Affairs (DCA).  "There are many sites across the state that offer creative developers a blank canvas to address this issue." DCA is one of the hosts of the Governor's Conference.
The Riverfront Village at Pennsauken received the Housing Revitalization Award, as a project that demonstrated the revitalization or redevelopment of distressed or blighted neighborhoods while including an affordable or workforce housing component.
"Riverfront Village is incredibly beautiful with wonderful attention to detail," says Pennsauken Mayor Betsy McBride, who accepted the award. "It is an opportunity for those who live in workforce housing to have a great view of the Delaware River and Philadelphia, while having amazing access to public transportation via the Pennsauken Transit Center."
The Riverfront Village at Pennsauken involves the transformation of the formerly vacant Acme site on River Rd., abandoned for nearly 25 years, into an affordable family housing development. The project includes 75 affordable family units in eight buildings, with five set aside for homeless veterans. Riverfront Village is immediately adjacent to a stop on the light rail River Line linking Camden to Trenton, as well as a bus station with connections to other transit links, giving working residents easy access to regional employment centers. The development is part of Pennsauken's Waterfront Master Plan, which outlines the municipality's vision for the area's redevelopment. The project partners are Conifer Realty, LLC, Kitchen & Associates, Pennsauken Township, Camden County Improvement Authority and Camden County Housing Association.
"These awards celebrate some of the best examples of quality affordable housing, supportive housing and public-private partnerships that have been placed in service throughout New Jersey over the last two and a half years," said New Jersey Housing and Mortgage Finance Agency Executive Director Anthony L. Marchetta. "These projects embody the respective missions of our agencies to provide quality affordable housing opportunities, create and retain jobs, and improve the quality of life for all New Jerseyans."