PMAC Beef And Bowl Held On October 21
The Pennsauken-Merchantville Area Chamber of Commerce (P.M.A.C.) is hosting a special Beef and Bowl event on Saturday, Oct. 21. Held from 7:00 to 11:00 p.m. at Pinsetter Bar and Bowl, 7111 Maple Ave., Pennsauken, the event features four hours of bowling and shoe rental; buffet from 7:30 to 9:30 p.m.; VIP lounge and cash bar; door prizes; and more.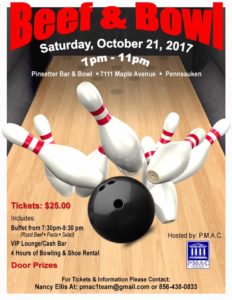 "We're excited to host this event at Pinsetter Bar and Bowl," says Ann Marie McCusker, president of P.M.A.C. "This is not a business networking event. We're inviting the community to join our members for a fun night out."
Tickets are just $25 per person; proceeds will go to support P.M.A.C.'s mission to promote local business growth in the community.
For tickets and additional information, contact Nancy Ellis at pmac1team@gmail.com or (856) 438-0833.