Remembering The Love And Kindness Of Mark Fillari
By Judith Kristen, AAP Columnist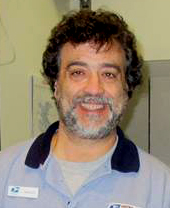 If you were a customer at the Merchantville Post Office, then you surely knew Mark Fillari. And not just because Mark was an exceptional postal worker for 30 years; it was because Mark was an exceptional guy – period.
His sudden passing on December 31, 2015 at the age of 56 was a tremendous shock and huge loss to his family: his darling wife, Angela; daughter Stephanie; sons Nick, Dominic, Mark; and the rest of his beloved family. He adored each and every one of them. All you had to do was mention his wife's name or something about one of his children, and there was an immediate sparkle in his eyes and a bright, wide smile on his face. And the community loved Mark too, because he made all of us feel like an extension of his own family.
I liked Mark from the very first time I stood in his line. My granddaughter was on my hip; I ordered a few books of stamps along with some large padded envelopes. Mark not only went about business as usual, but he sat Kris up on the counter, and played patty cake with her to give me a break while I counted out my money and put all of my purchased items inside a very uncooperative carry-all bag.
After Mark passed, standing in what used to be "his" postal line was difficult. There were a handful of us there one morning, and I spoke up first and said softly, "I feel like I lost a family member." In no time flat, we were all engaged in remembrances of this lovely, lovely man. "I'd look at his wallboard every time I came in," smiled Marie of Collins Tract. "He not only proudly displayed pictures of his own family, but of friends and neighbors he loved. He knew everything about everyone, because he genuinely cared about everyone."
Then there was Bud from Maple Ave. "Early one morning, Mark asked me how I was doing and I shared that my sister-in-law had just been diagnosed with breast cancer the day before. Straight off, Mark asked me what her name was because he wanted to add her to his prayer list. I was really touched by that." And Jo from Northeast Philadelphia said, "My mother still lives here and I come over from Philly with the kids once a week. As I moved up to be Mark's next customer, my three year old, Carly, was asking if we could get cookies to take to Mom Mom's. I guess he sensed that I was already frazzled with Carly and my two other young children in tow. He left his station briefly, and came back with two boxes of Girl Scout cookies for the kids, me, and their Mom Mom. I'll never get over that. What a kind and thoughtful man. I mean, who does that stuff these days?"
The answer, my friends, was Mark Fillari.
My friend, Barbara Hentz, worked with Mark – off and on and side by side – for 14 years. Her loving sentiment of her friend and co-worker echoed the voices of all who knew him. "Mark honored life. He respected people. He was such a good soul. I know I've said this more than once, but it's so true: if more people lived their lives with the kindness, generosity, and compassion that Mark did, this world would be a far, far better place."
Barbara and I met up on a Thursday night and sat down for a bite to eat at The Penn Queen Diner, and the words just flowed from both of us about all he did for others and who he was deep in his heart.
We both knew that he loved children, and that he mentored many in his lifetime – in football, baseball, and wrestling. We talked about the other people he helped by putting in a new water heater; driving someone to the hospital; or replacing a car engine. And once, while driving in Philadelphia by an overpass on Front St., he saw a homeless man in need of a bit more warmth. He quickly got out of the car and not only gave that man a coverlet, but five dollars as well so that he could have something to eat that night.
And, loving couple that they were, Mark and his wife, Angela, would regularly make sandwiches for the seniors at St. Peter's Parish.
When I originally began this column, I started to write it all about his family and their sudden loss. It didn't feel right to me. It was so painful. Then I thought, here was a man who lived for his family, who adored and cherished them. They were his joy, his treasure. So I said to myself, "What would Mark want for Angela, Stephanie, Nick, Dominic, and Mark? And what would he want for the rest of his family, extended family, and friends?"
Then I remembered when I was chatting with him one day about all the photos of his kids on the wallboard he had to the right of his station. "They're my heart. They're my happiness. I'm lucky, Jude. I'm a lucky man."
And it was then that I decided not to make this a farewell column, but instead create a treasured happiness upon happiness story about Mark.
You see, he could so easily give to everyone you've just read about because he had such a strong and loving home base.
The Fillari legacy that Mark left was one of a gratitude for life, a joy for everyday living, a legacy of love, compassion, and paying it forward.
Mark Fillari earned his wings long before God decided to take him home.
So, dear readers, please join me in honoring Mark's memory by giving of yourself to those in need; saying a kind word to a passerby; listening to a friend whose heart is broken; paying for someone's lunch who's seated all alone at the diner counter. And when you do, remember these words from a quote I once shared with Mark:
"Through the hands of the kind, compassionate, and giving, God speaks. And from behind their gentle and loving eyes, He smiles upon the earth."
Rest in peace, my precious friend.
Love,
~Judy
Judith Kristen is a Pennsauken-based author and animal rights activist who stalked George Harrison of the Beatles before it was illegal. For more information about her work, visit JudithKristen.com.