Safe Families, Safe Communities Forum Held In Pennsauken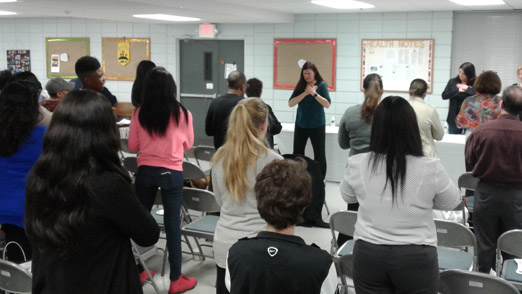 By Frank Sinatra, AAP Editor
Last month, a special event was held in response to the senseless and tragic death of Jamil Baskerville, Jr., the two-year-old Pennsauken boy allegedly killed by his mother's boyfriend, Zachary Tricoche last August.
The Camden County Board of Freeholders and Pennsauken Township, in conjunction with the Camden County Commission on Child Abuse and Missing Children, sponsored the "Safe Families, Safe Communities" on Oct. 13. Held at Temple Lutheran Church in Pennsauken, the event provided the community an opportunity to discuss the issues of domestic violence and child safety.
"We were strongly encouraged by the level of engagement of all our participants" says Betsy McBride, Pennsauken Township committeewoman. "This forum is just the first of many steps to help empower residents and help identify what we can do to help make our neighborhoods safer. This goes beyond one issue or one tragic event. The initiative is an ongoing process to make sure every family in our community is safe."
"Pennsauken Township is wholly committed to insuring that our community is safe for our residents and their families. This is our goal every single day of the week," adds Pennsauken Mayor John Kneib, who also serves as the Township's director of public safety. "Our administration and our police force continue to work with both our residents and other local organizations to address these serious issues and are always striving to improve how we serve the Pennsauken community."
Several panelists from various social service organizations spoke about ways that families and the community can deal with these important issues.
Rita Verano, program coordinator for Cooper University Hospital's Children At Risk Evaluation (CARE) Team, stressed the importance of letting children know that it's okay to let a trusted adult know about unsafe situations.
"It's important to give kids permission to talk about what happens at home, realizing that safety is their first need," says Verano. "Let them know that there are people they can talk to. And if something unsafe has happened, changes need to be made to insure that happens and identify grownups for them to talk to."
Bernadette Maull, a victim advocate from the Camden County Women's Center, spoke about how information is key in the prevention of domestic violence and abuse.
"A lot of this is all about resources. Our job is to help with whatever that client needs," explains Maull. "If we want to talk about prevention, we want to make sure that it doesn't get to that point. People need to learn the red flags, learn the warning signs. There's all the psychological stuff that happens before the physical."
"That's where the issue is," adds Carmen Rodriguez, a member of the Camden County Board of Freeholders.  "What can we do to help before we get to this situation? We provide services beforehand. When families have healthy relationships, they are less likely to find themselves faced with issues of domestic violence and abuse."
Barbara Maronski, LSW, coordinator for the Camden County Traumatic Loss Coalition, discussed how violence and trauma can deeply effect a child's sense of identity; they can associate themselves more as a victim of violence, rather than an individual.
"What kids can experience, it shatters identity. They identify with the trauma and blame themselves," says Maronski. "It's important to remember the three 'C's: comfort, care, and conversation. No matter how horrific an event, we need look for the survivor inside, so that they can heal, recover, and move forward."
Members of the Pennsauken Police Department were on hand to talk about their role in responding to calls dealing domestic violence and abuse. Officers Nicole Kulyk and Linnette Ramos responded to the 9-1-1 call for Jamil, helped to console the other children at the scene, and attended the community vigil in late August.
"We comfort people as best we can. They can call us as many times as they need to," explains Kulyk. "Don't feel like you can't call us. We're not going to judge you. We're always going to be here to help you. We're always here for you."
"As the first people there, we're just there to listen. We'll come there open-minded," adds Ramos. "If they want to talk to somebody right then and there, that's what we're here for. To talk, give advice, and comfort. To make them safe. That's the most important thing,"
There are a variety of resources available to families dealing the issue of domestic violence and abuse. The State of New Jersey Department of Children and Families' Division on Women, Office of Domestic Violence Services funds 23 domestic violence programs and the New Jersey Coalition for Battered Women. There is at least one DCF-designated lead domestic violence program in each of the 21 counties that provides core services, including a 24-hour hotline, counseling, support services, and more. For additional information, visit http://www.nj.gov/dcf/women/domestic/.
The Camden County Women's Center is the state designated agency providing leadership, support, education, and advocacy for victims and survivors of domestic violence in Camden County, regardless of age, race, gender, and sexual orientation. Services are free and confidential. For more information, visit CamdenCountyWomensCenter.org.