Santa Visits Burrough-Dover House During Nighttime Holiday Event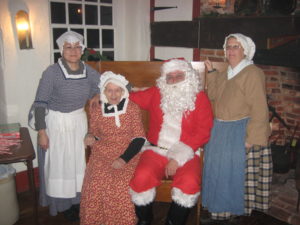 A new holiday tradition in our Township began a couple of years ago when historic Burrough-Dover House opened its doors on an evening in December to welcome Santa and the community for a beautiful evening of cheer. Again this year, on Friday evening, Dec. 8, from 6:00 to 8:30 p.m., Santa will sit before the hearth at Burrough-Dover House to welcome the young ones and their families for a Yuletide chat and a photo opportunity that will be a real Pennsauken keepsake! The historic home will be decked out with greens and tinsel and holiday regalia, while a tree adorned with ornaments stands in the parlor as if waiting for the good children of the 19th Century Dover family to rise on Christmas morning!
Music of the season and sweet treats offered by our volunteer docents will warm the evening, as will the glow of the luminaria guiding the visitors from the parking lot to the door of the historic parlor. However, the main attraction will be the man in the red suit waiting by the fireside to meet all who visit on this special evening!
Burrough-Dover House, the historic home of the Burrough family from colonial times and the founding of the nation, and of the Dover family from the 19th Century until the 1960s, has been the home of the Pennsauken Historical Society since its founding in 1964. Admission for this special holiday event is free and there is plenty of free parking. Bring your good-listed kids and even those who have not yet made that list, bring your camera, and bring your holiday season cheer for a memory to keep! There should still be plenty of time to make prints for your holiday cards!
Burrough-Dover House is located at 9201 Burrough-Dover Lane, right off Haddonfield Road near the Wyndam Road traffic light.
Visit the Griffith Morgan House or Pennsauken Historical Society pages or the group "Pennsauken History Forum" on Facebook for more details or directions or call (856) 662-3002 and leave a message or e-mail to pennsaukenhistoricalsociety@gmail.com.