Saying Hello As Your New Children's And Young Adult Librarian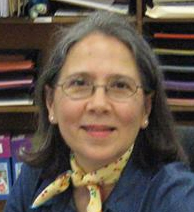 By Maira Diaz
Hello Pennsauken! In the last five years, I've addressed you through this column as your Reference Librarian. But this month, I've started as the Pennsauken Free Public Library's new Children's and Young Adult (C&YA) Librarian.
This new position is both an honor and a privilege. I am grateful for the opportunity and look forward to serving you as the head of the Library's Youth Services.
Reading during the summer makes a HUGE difference in maintaining our children's academic skills, helping them start the new school year on a strong footing. To help encourage and motivate your youngsters, come out to our Summer Reading Kick-Off Celebration on Saturday, June 27 from 11:00 a.m. to 1:00 p.m. for food, fun, raffle, giveaways, and more! Sign up for our annual Summer Reading Challenge and receive prizes for targeted minutes or pages read. Last year, 223 participants read 94,244 minutes! This year, let's break the record and aim for 100,000 minutes! Pennsauken, we can do it!
The theme this year's summer reading program is, "Every Hero has a Story." We've planned fun and engaging programs: local environmental, community, and animal heroes coming to the Library; "Super Summer" storytimes; reading buddies; Wednesday morning movies; Zumba; "Garden Time" with Miss Maira; "Hero Hunters;" LEGO Club; passes for specific area museums; and much more.
For a list of specific dates and times, check the Library Events column in the July issue of All Around Pennsauken or visit the Library's events page at PennsaukenLibrary.org.
I welcome you to visit me at the C&YA desk to share your ideas and suggestions, and/or volunteer. Together, let's make a difference!
SPECIAL ONLINE FEATURE!
Maira's daughter, Kristen Diaz, was nice enough to submit why she's excited that her mother is the new Children's and Young Adult Librarian. Enjoy!
I Once Was Blind, But Now I Read
By Kristen Diaz
When I was diagnosed with legal blindness at the age of three, my mother cried. Understandably so. A nature lover and librarian, she was crushed to think of all that I might miss seeing, doing, and reading: sunsets, fall foliage, skiing, and curling up on the couch with a favorite book.
But, thankfully, Mom didn't let my visual limitations limit my quality of life. She read to me every day, got me large print books and books on tape, and took me to Braille lessons twice a week. And I'm sooo glad she did! Despite my loss of vision, I have seen ancient Israel through the pages of "The Bronze Bow;" medieval Europe in "The Trumpeter of Krakow;" and the pioneer Midwest in "Caddy Woodlawn." I have ridden on a Viking ship in "Beorn the Proud;" battled goblins in "The Hobbit;" and panned for gold with the 49'ers in "The Great Horned Spoon;" all things even the sighted cannot do today unless they read. But even more than the things reading has allowed me to see and do, I am grateful for how books have opened my moral and spiritual eyes. "Rikki-Tikki-Tavi" taught me what self-control for the sake of another looks like. "The Knights of the Silver Shield" showed me the value of simple faithfulness. "The Lord of the Rings" opened the eyes of my heart to the beauty of friendship, loyalty, and hope in dark times.
So, I am very excited for the children, youth, parents, teachers, and caregivers of Pennsauken to have my mother as the new head of Children's and Young Adult Services at your local library. The children's and youth departments offer much more than books. There are computers, DVDs, LEGO club, and all the prizes and guest heroes of the Summer Reading Program and Challenge. But I'm most excited for you all to catch the same love for what's good, what's true, and what's beautiful that Maira Diaz inspired in me. Who knows where this love will take you. I ended up earning my Bachelor of Arts in Literature and Education!