Seminar On March 16 Helps Families Save For College
Paying for college is a major concern for families. According to data from U.S. News and World Report, the average tuition and fees of attending a private college in for the 2016-2017 school year is $33,635, a more than three percent increase from last year. While significantly less, even attending a public, in-state school is pricey, with an average cost of $9,130 this year. And the average total debt of 2015 graduates who took out loans was $29,411. It's getting harder and harder to save for college; and many families don't know where to begin.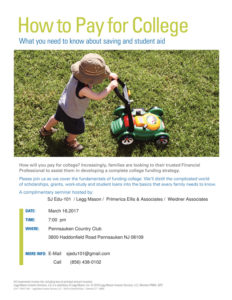 A special seminar, "How to Pay for College," hopes to change that. Held on Thursday, March 16, 7:00 p.m. at the Pennsauken Country Club, 3800 Haddonfield Rd., this free event covers the fundamentals of funding college, distilling the complicated world of scholarships, grants, work-study, and student loans into the basics that every family needs to know.
For more information, e-mail sjedu101@gmail.com or call (856) 438-0102.