Senior Citizen Health Awareness Fair To Be Held In Pennsauken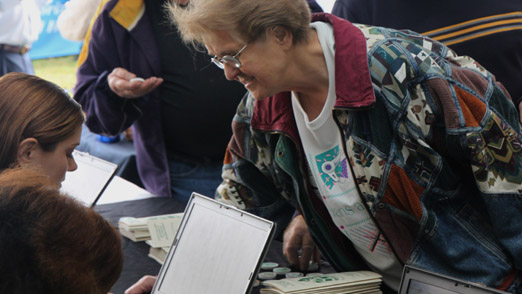 By Sonny DiSabato, Senior Citizen Coordinator
Hello fellow seniors. The annual Senior Citizen Health Awareness Fair will be held on Wednesday, Sept. 30 from 10:00 a.m. to 2:00 p.m. at the Jack Curtis Stadium in Cooper River Park, rain or shine. By showing your Medicare card, Camden County residents can receive a seasonal flu shot for free. In addition, the fair features health information tables, games, and prizes. Health screenings will be provided for issues such as blood pressure, cholesterol, vision, and diabetes. There will also be information about prescription/insurance programs, medical equipment, financial/consumer information, and social service programs.
Golf carts will be available upon request to assist individuals from their car to the fair, courtesy of the Pennsauken Country Club. Also, Senior Citizens United Community Services (SCUCS) will help to provide group transportation at central locations to municipalities that do not have their own vehicles. Any group needing transportation services should contact Diane Powell at SCUCS in writing. The mailing address is 537 Nicholson Rd., Audubon, NJ 08106. These written requests must be received by Wednesday, Sept. 16.
Once again, the Camden County Division of Senior Services and the Camden County Nutrition Project will be sponsoring boxed lunches at the health fair, but you must have a ticket in order to receive one. For more information, or to RSVP for lunch tickets, call the Camden County Division of Senior and Disabled Services at (856)-858-3220.
Be Prepared For The Pope
Pope Francis will be in the Philadelphia area for the World Meeting of Families. Beginning Friday, Sept. 25 through Suday, Sept. 27, very heavy travel restrictions will be in effect, making driving very difficult, not just in Philadelphia, but locally here in New Jersey.
Please make sure that if you have any appointments scheduled, both medical and non-medical, that you are able to get to and from your destination. You may also want to consider rescheduling your appointments for another date. If not, it would be a good idea to make sure both you and your "ride" are patient and leave in plenty of time.
Wishing you health and happiness as we approach the start of fall. Remember, schools are now in session. Please be very careful when you drive. Our children are our future.