SOCKTOBERFEST Held October 1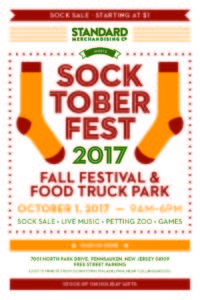 Standard Merchandising Co. in Pennsauken is kicking fall off with their first-ever SOCKTOBEFEST event. Held on Sunday, Oct. 1, 9:00 a.m. – 6:00 p.m., at 7001 North Park Drive, families will be able to enjoy festivities at the company's headquarters.
Local food trucks, live music, face painting, pumpkin decorating, games (with special prizes) and a petting zoo are just some of family-friendly activities that will be available for all to enjoy. At the event, attendees will also be able shop more than 50,000 pairs of finely crafted, made in America socks and tights priced at $1, $2 or $3 per pair. Merchandise includes cashmere, wool, cotton and merino socks for women, men and children and babies. The first 50 customers will receive a special VIP gift bag.
A proceed from all sales will benefit local charities including "Back on my Feet" and "Rock to the Future."
In addition, attendees will be able to join Standard Merchandising Co. in their on-going relief efforts to assist the victims of the recent hurricanes. The company has already started by sending hundreds of pairs of socks for distribution. During SOCKTOBERFEST all attendees will be able to purchase and donate socks to "The Joy of Sox," an organization that provides socks for the homeless and those in need. Standard Merchandising Co. will match every pair of socks purchased and donated during the event.
Free parking will be available on-site. Event is rain or shine.